This page does not adhere to the

layout guide

.

Please help the ABC Wiki by editing this page to be conform the set layout guidelines.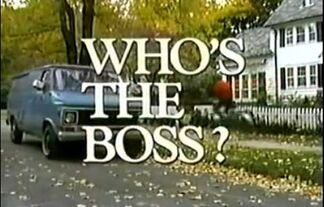 Who's The Boss? is an ABC network sitcom created by Martin Cohan & Blake Hunter, starring Tony Danza, Judith Light, Alyssa Milano, Danny Pintauro & Katherine Helmond.
It premiered on September 20, 1984 and ended on April 25, 1992, lasting for 8 seasons and 196 episodes. It aired on Tuesday nights for 7 years until the fall of 1991 when it was moved to Saturday nights until early March of 1992.
The series had a short-lived spin-off called "Living Dolls" in 1989. They also attempted two more pilots "Charmed Lives" & "Mona", but they were not picked up as series.
Plot
The series was about Tony Micelli (Tony Danza), a retired major league baseball player who relocates to Fairfield, Connecticut with his daughter, Samantha (Alyssa Milano) to works as a live-in housekeeper for Angela Bower (Judith Light), a divorced advertising executive with a young son, Jonathan (Danny Pintauro).
Frequenting the household was Mona Robinson, Angela's feisty, man-crazy mother, who dated all kinds of men (from college age to silver-haired CEOs).
The show's title refers to the clear role reversal of the two lead actors, where a woman was the breadwinner and a man (although he was not her husband) stayed at home and took care of the house.
It also challenged contemporary stereotypes of Italian-American young males as macho and boorish and wholly ignorant of life outside of urban working-class neighborhoods as Tony was depicted as sensitive, intelligent and domestic with an interest in intellectual pursuits.
Tony & Angela become attracted to each other even though both are uncomfortable with the notion for much of the run of the show. While there is playful banter and many hints of attraction, Tony and Angela do their best to avoid facing this aspect of their developing relationship and dating other people.
However, the two of them become best friends, relying on each other frequently for emotional support. In addition, Tony provides a male role model for Jonathan while Angela & Mona give Samantha the womanly guidance she had been missing.
Keeping ties with Tony's and Samantha's Brooklyn roots, motherly former neighbor Mrs. Rossini (Rhoda Gemignani), who ends up becoming a thorn in Mona's side, and several other friends turn up a few times each season, sometimes in New York, sometimes in Connecticut.
Angela eventually strikes out on her own and opens her own ad firm in the third season while Tony decides to go back to school, enrolling in the same college that daughter Samantha would later attend in 1990.
Samantha's best friend Bonnie (Shana Lane-Block) is a recurring character during these seasons while romance comes into her life in the form of boyfriend Jesse Nash (Scott Bloom) during her senior year of high school & into college.
At the beginning of season eight, Tony and Angela finally acknowledge their love for each other. However, the series does not end with the widely expected marriage, but on a more ambiguous note. (This was due primarily to concerns by the network that a marriage, representing a definitive ending, could hurt syndication).
During the series' final season, Samantha finds a new love in Hank Thomopoulous (Curnal Achilles Aulisio), who became a full-time character in January 1992. A fellow college student, Hank was originally poised to enter a medical program, but soon decides to become a puppeteer. Sam & Hank were engaged in a matter of weeks and in February, they were married.
Cast
Tony Danza as Tony Micelli
Judith Light as Angela Bower
Alyssa Milano as Samantha Micelli
Danny Pintauro as Jonathan Bower
Katherine Helmond as Mona Robinson
Rhoda Gemignani as Mrs. Rossini
William Gallo as Al
Shana Lane-Block as Bonnie [seasons 3-7]
Robin Thomas as Geoffrey Wells [season 3]
Scott Bloom as Jesse Nash [season 4]
Kate Vernon as Kathleen Sawyer [season 7]
Jonathan Halyalkar as Billy [season 7]
Doug Ballard as Andy [season 7]
Curnal Achilles Aulisio as Hank Thomopalous [season 8]
Candy Azzara as Fran Thomopalous [season 8]
Vic Polizos as Joe Thomopalous [season 8]
Background
The pilot episode of "Who's the Boss?" was shot in November of 1983 (a full 10 months before the show actually went on the air).
ABC originally was planning to put it on mid-season in January 1984, but due to creative differences[vague] between the producers and the network, the show was delayed until the next season. The show debuted on September 20, 1984.
While the show was shelved for an extended amount of time in early 1984, Tony Danza was arrested for fighting in a New York bar after a fellow patron made a rude remark about his female companion. A few months later, the show resumed taping.
During Danza's court date that July, he faced a choice of jail time or community service as a result of battery and other charges. Danza opted for community service which was still ongoing when the series premiered.
Later in the show's run, it was reported that Tony Danza was exhibiting erratic behavior on the set. These stories ranged from him getting after the directors to arguments with the writers over minor script revisions.
While it was uncovered that only the writing became an issue for Danza, his frustrations to have the show be a "well-oiled machine" boiled over at the start of the 1989–90 season when he staged a walkout for two weeks until he calmed down. In the meantime, the remainder of the cast filmed scenes without him.
Upon his return, Tony Danza offered an apology to everyone on the set and resumed work. However, the crew then monitored his mood and a few weeks later made light of the whole incident by issuing shirts on set that said: "I survived week six" (according to "E! True Hollywood Story").
In the fall of 1990 (with Samantha beginning college and Jonathan in high school), the show added a new younger cast member & producers brought in 5-year-old Billy (Jonathan Halyalkar), a kid from the Micellis' old Brooklyn neighborhood, whose grandmother left Billy in Tony's care. He moved in with the Bower family in season 7. Billy was a comic foil to Tony, but also attempted to get into the mix in other characters' storylines, however, he only lasted for that season.
In the "E! True Hollywood Story" about the series, Katherine Helmond remarked that Jonathan Halyalkar was a gifted performer, but he had difficulty catching up to the pace of the acting & timing that the senior cast members had long established with each other.
Broadcast History
In the fall of 1991 (after seven years on its established Tuesday night slot), "Who's the Boss?" was moved to Saturday nights at 8:00 p.m. (against NBC's "The Golden Girls") along with fellow long-running sitcom "Growing Pains".
In February 1992, ABC added the long-running "Perfect Strangers" and the new cartoon "Capitol Critters" to the night. It was promoted as the new "I Love Saturday Night" lineup (an equivalent to the hit Friday TGIF block).
The show moved to 8:30/7:30c (with "Capital Critters" as its lead-in). The "I Love Saturday Night" banner proved to be short-lived, folding on February 29, 1992 and "Who's the Boss?" moved back into the Saturday 8/7c slot in early March.
The series' ratings dropped significantly in its new time slo and the decision was made to end the series that spring.
The hour-long series finale aired on Saturday, April 25, 1992 along with the finales for "Growing Pains" and "MacGyver."
Spin-Offs
The first attempted Who's the Boss? spin-off had its origins in the final episode of season two, "Charmed Lives" (starring Fran Drescher & Donna Dixon), a backdoor pilot for a program about two women up for the same job as well as overall being a series about the lives of single career women in the 80's. The spin-off was not picked up as a series.
In 1987, producers had planned a spin-off entitled "Mona" which focused on Mona's character leaving Angela to help her brother Cornelius run a seedy hotel in Manhattan, New York.
The third season featured this plot in a two-part episode, but when ABC changed their mind about the spinoff (fearing what Mona's departure could mean to the show), the ending was rewritten to feature Mona returning to Angela's home.
The third attempted spin-off (which did make it to series) was titled "Living Dolls" which lasted only one season. The show starred Leah Remini, Michael Learned, and Halle Berry.
The show featured Leah Remini (who had appeared in two "Who's the Boss?" episodes as a friend of Samantha's) as a homeless model taken under the wing of an agent played by Learned. In those same episodes, Jonathan Ward played Learned's son Rick, but in the "Living Dolls" series, David Moscow took over the role.
Accolades
"Who's The Boss" was also nominated for more than 40 awards, including 10 Primetime Emmy Awards and five Golden Globe Award nominations. Alyssa Milano and Danny Pintauro were also nominated for Young Artist Awards with Milano winning three & Pintauro winning one.