This page does not adhere to the

layout guide

.

Please help the ABC Wiki by editing this page to be conform the set layout guidelines.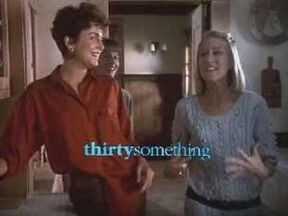 Thirtysomething is an ABC Kids drama series created by Edward Zwick and Marshall Hershkovitz that premiered on September 29, 1987.
The show's cast consisted of actors Ken Olin, Mel Harris, Timothy Bustfield, Patricia Wettig, Melanie Mayron, Peter Horton and Polly Draper.
During the series' run, it was nominated for 41 Primetime Emmy Awards and won 13 of them. It also won two Golden Globes as well.
On May 28, 1991, the show ended after 4 seasons and 88 episodes partly due to low ratings and partly due to the desire of the creators & cast to move on to new projects.
Plot
"Thirtysomething" is about a group of friends learns to negotiate their prior involvement with the early 1970s counterculture as young adults, in contrast to the yuppie lifestyle which dominated American culture during the 1980s
Although seen as an ensemble drama, the show revolved around husband and wife Michael Steadman (Ken Olin) & Hope Murdoch (Mel Harris) and their baby Janie. Michael's cousin is photographer Melissa Steadman (Melanie Mayron) who used to date his college friend Gary Shepherd Ph.D. (Peter Horton) who eventually marries Susannah (Patricia Kalember).
Michael's business parter is Elliot Weston (Timothy Busfield), who has a troubled marriage with his wife Nancy (Patricia Wettig), a painter. Hope's childhood friend is local politician Ellyn Warren (Polly Draper).
Cast
Ken Olin as Michael Steadman
Mel Harris as Hope Murdoch Steadman
Timothy Busfield as Elliot Francis Weston
Patricia Wettig as Nancy Krigger Weston
Melanie Mayron as Melissa Steadman
Polly Draper as Ellyn Warren
Peter Horton as Professor Gary Shepherd
Luke Rossi as Ethan Weston
Patricia Kalember as Susannah Hart [seasons 3-4]
David Clennon as Miles Drentell [seasons 3-4]
Terry Kinney as Steve Woodman [season 1]
Richard Gilliland as Jeffrey Milgrom [season 2]
Erich Anderson as Billy Sidel [season 4]