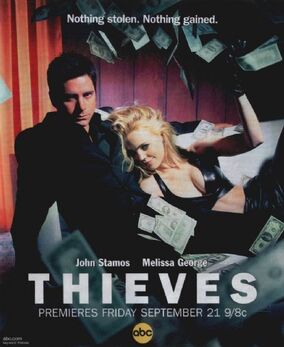 Thieves is an ABC network adventure crime-drama series created by Jim Leonard that starred John Stamos (from "Full House") and Melissa George.
The show premiered on September 28, 2001, but after only 8 episodes aired, it was cancelled on November 23, 2001.
Synopsis
The show was about two expert thieves, Johnny & Rita who work for the FBI recovering stolen items.
Cast
John Stamos as Johnny
Melissa George as Rita
Robert Knepper as Agent Oliver Shue
Tone Loc as Agent Al Trundell