This page does not adhere to the

layout guide

.

Please help the ABC Wiki by editing this page to be conform the set layout guidelines.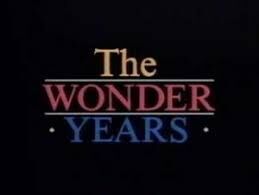 The Wonder Years is an ABC network coming-of-age comedy\drama series created by Neal Marlens and Carol Black.
The show aired from January 31, 1988 to May 12, 1993, lasting for six seasons & 115 episodes.
Plot
Taking place from 1968 to 1973, the series centered on Kevin Arnold, a young boy growing up in a suburban middle-class family.
Narrated by an adult Kevin, the show follows him as he faces first love and the obstacles he faces throughout his adolescent years.
Cast
Fred Savage as Kevin Arnold

Daniel Stern as Adult Kevin\Narrator

Dan Lauria as Jack Arnold
Alley Mills as Norma Arnold
Olivia d'Abo as Karen Arnold
Jason Hervey as Wayne Arnold
Josh Saviano as Paul Pfeiffer
Danica McKellar as Winnie Cooper
Production
Conception
"The Wonder Years" was conceived by writers Neal Marlens and Carol Black. They set out to create a family show that would appeal to the baby-boomer generation by setting the series in the late '60s, a time of radical change in America's history.
They also wanted the series to tie this setting in to the life of a normal boy growing up during the period.
After writing the script for the pilot episode, Marlens and Black began pitching the series to television networks. However, none of them were interested in it except for ABC, with whom Marlens and Black reached an agreement.
Marlens had originally wanted the setting to be his native Huntington, Long Island, where he grew up.
Elements were also taken from Black's childhood from the White Oak section of Silver Spring, Maryland. However, ABC insisted that the location remain nonspecific (the colloquial "Anytown, USA").
Writing
When they started writing the series, Marlens and Black took a script for a future film that they had been toying with, which featured an off-screen narrator.
Black explained, "We liked the concept that you could play with what people think and what they're saying, or how they would like to see themselves as opposed to how the audience is seeing them."
They based the show, in part, on their own childhood growing up in the suburbs.
Black recalled that "we naturally [took] elements of our experience and [threw] them into the pot. The basic setup, the neighborhood, the era – that's the time and place where we grew up."
Casting
The search for the main lead of the show did not take long. Marlens and Black went to five casting directors and interviewed them for recommendations.
All five of them recommended Fred Savage, who at the time was famous for his roles as the grandson in "The Princess Bride" and as Charlie/Marshall in "Vice Versa". Marlens and Black (having never heard of Savage) decided to see the rough cut of "Vice Versa".
Said Marlens, "[We saw] a marvelous actor with a natural quality – which essentially means he has no quality at all except being a kid. It sounds funny, but it's a rare thing to find in a child actor."
Marlens and Black took this approach when casting the other kids for the show, looking for natural ability rather than professionalism.
According to Marlens, they saw 300 to 400 kids before narrowing it down to 70, "My wife and I made the final choice ... each of whom had to be approved by the network."
For the choice of Savage's character's main love interest, the choice came down to actress Danica McKellar and her sister, Crystal McKellar.
With just days to go before shooting, the producers eventually selected Danica to play Winnie Cooper. However, Mary Buck, the head of casting, noted that, "it was practically a tossup".
Crystal McKellar was liked so much by the producers that they eventually created the character of Becky Slater so that they could have her on the show.
Danica later reflected on the experience, "I auditioned, like everyone else. They had read lots of girls but hadn't found their 'Winnie' yet, and I was thrilled to be chosen."
Filming
At the end of the first season, Marlens and Black departed from the show.
Although they never gave a reason for their sudden departure, it may have been due to Black's pregnancy. She hinted at it in an interview in April 1988, saying "We have secret plans to leave Los Angeles before our kids reach the age of cognizance."
One challenge for the cast and crew was filming around a child actor, meaning that the show had to obey child labor laws.
At time, Fred Savage explained, "You have to get at least three hours of school in every day. So whenever I'm on a break, I go to school. It's really intense because I have to get a lot done in short periods. And it's hard because if they need you back on the set, they pull you away every twenty minutes. If you're writing an essay and suddenly get inspired, you've got to stop and go back to work."
Many exterior shots were filmed in Burbank, California.
Lawsuit
As the show was in the process of wrapping its sixth and final season, a costume designer on the show named Monique Long filed a sexual harassment charge against stars Fred Savage and Jason Hervey. The suit brought a lot of unwanted publicity to the show.
In the end, the case was settled out of court, with Savage stating that he was completely "exonerated", adding that it was a "terrible experience".
Cancellation
"The Wonder Years" wrapped its sixth and final season in May of 1993. Its cancellation was partially blamed on conflict between producers and executives at ABC. As Kevin matured, the producers wanted the storylines to mature as well.
However, the executives at ABC felt uncomfortable with more explicit content given the time slot, saying, "We felt it was inappropriate to present Kevin's awakening because of the setting in the 1960s, the gentle tone of the series and, most importantly, the 8 p.m. time period."
Bob Brush noted that, "When Kevin became 16 and 17, there were really things he needed to get to that we couldn't do at 8 p.m., especially with the kind of venerable cachet that the show had obtained with its audience. We would get notes from the network saying, "You could do this on any show besides The Wonder Years."
Other reasons for the show's cancellation were escalating costs and declining ratings.
The cast's salary increases, coupled with location shooting (which was due to the producers wanting to reflect Kevin obtaining his driver's license), led to Brush claiming that they were spending $1.2 million an episode.
The final episode of "The Wonder Years" aired on May 12, 1993. Bob Brush noted that the finale was not what he would have wanted it to be, but because the cast and crew were unsure at the time of filming if the sixth season was going to be the last, he was forced to have the ending be open-ended, until the recording of Daniel Stern's narration.
Fans were somewhat disappointed with the ending, in particular the revelation that Kevin and Winnie don't end up as a couple.
Brush acknowledged this disappointment, saying, "Some viewers [were] surprised that nothing works out the way your fondest wish would be," and explained, "The message I wanted in there is that that's part of the beauty of life. It's fine to say, 'I'd like everything to be just the way it was when I was 15 and I was happy,' but it seemed more nurturing to me to say that we leave these things behind and we go on to forge new lives for ourselves."
In a January 2018 interview with Yahoo! Entertainment, Alley Mills said that the sexual-harassment lawsuit against Fred Savage and Jason Hervey was a significant factor in the show's cancellation.
Reception
TV Guide named "The Wonder Years" one of the 20 best shows of the 1980s.
After six episodes, the show won a Primetime Emmy Award for "Outstanding Comedy Series" in 1988.
In addition, at the age of 13, Fred Savage became the youngest actor ever nominated as "Outstanding Lead Actor for a Comedy Series".
The show was also awarded a Peabody Award in 1989 for "pushing the boundaries of the sitcom format and using new modes of storytelling." In total, the series won 22 awards and was nominated for 54 more.
In 1997, "My Father's Office" was ranked #29 on TV Guide's "100 Greatest Episodes of All Time" list and in the 2009 revised list, the pilot episode was ranked #43.
In 2016, Rolling Stone ranked the show #63 on its list of "100 Greatest TV Shows of All Time".
In 2017, James Charisma of Paste ranked the show's opening sequence #14 on a list of "The 75 Best TV Title Sequences of All Time".
As of recent years, many critics and fans consider "The Wonder Years" to be a classic with tremendous impact on the industry over the years, inspiring many other shows and how they are structured.
Community content is available under
CC-BY-SA
unless otherwise noted.