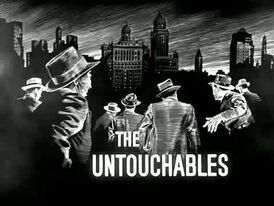 The Untouchables is an ABC network crime drama series based on Eliot Ness & Oscar Fraley's memoir of the same name executively produced by Alan A. Armer, Desi Arnaz, Leonard Freeman, Quinn Martin & Jerry Thorpe.
The show aired from October 15, 1959 to May 21, 1963, lasting for four seasons & 118 episodes.
Plot
Set in Chicago, Illinois in the 1930s, the series centered on Eliot Ness's experiences as a prohibition agent fighting crime with a special team of agents nicknamed "The Untouchables"
Cast
Robert Stack as Agent Eliot Ness
Abel Fernandez as Agent William Youngfellow
Nicholas Georgiade as Agent Enrico "Rico" Rossi
Paul Picerni as Agent Lee Hobson
Steve London\Paul Dubov (in the pilot) as Agent Jack Rossman
Community content is available under
CC-BY-SA
unless otherwise noted.