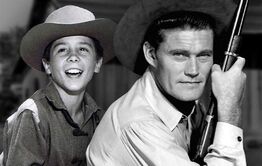 The Rifleman is an ABC network Western series created by Arnold Laven, starring Chuck Connors in the lead role.
The show aired from September 30, 1958 to April 8, 1963, lasting for five seasons & 168 episodes. It was produced by Four Star Productions.
Plot
The series centered on Lucas McCain, a Union Civil War veteran, rancher & widower raising his young son, Mark while battling desperados in New Mexico.
It was also one of the first prime time series on U.S. television to show a single parent raising a child.
Cast
Main Cast
Chuck Connors as Lucas McCain
Johnny Crawford as Mark McCain
Paul Fix as Micah Torrance
Recurring Cast
Bill Quinn as Frank Sweeney
Patricia Blair as Lou Mallory
Joe Higgins as Nels Swenson
Harlan Warde as John Hamilton
Joan Taylor as Milly Scott
Hope Summers as Hattie Denton
John Harmon as Eddie Halstead
Production
Development
"The Rifleman" was created by Arnold Laven and developed by Sam Peckinpah, who would become a director of Western movies. Peckinpah (who wrote and directed many early episodes) based many characters and plots on his own childhood on a ranch.
His insistence on violent realism and complex characterizations, as well as his refusal to sugarcoat the lessons he felt the Rifleman's son needed to learn about life, put him at odds with the show's producers at Four Star Productions.
Peckinpah left the show and created a short-lived series, "The Westerner", starring Brian Keith.
Community content is available under
CC-BY-SA
unless otherwise noted.