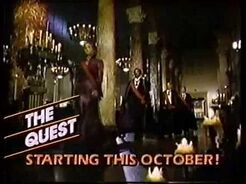 The Quest is an ABC network action/adventure television series created by Juanita Bartlett.
The show aired from October 22 to November 19, 1982, lasting for one season & 9 episodes (leaving four of them unaired).
It was produced by Stephen J. Cannell Productions.
Plot
The series centered on potential heirs to the throne of a fictional European monarchy that (were its king to die without issue) would revert to rule by France.
Cast
Perry King as Dan Underwood
Noah Beery Jr. as Art Henley
Ray Vitte as Cody Johnson
Karen Austin as Carrie Welby
Michael Billington as Count Louis Dardinay
John Rhys-Davies as Sir Edward
Ralph Michael as King Charles
Community content is available under
CC-BY-SA
unless otherwise noted.