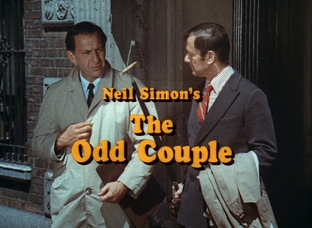 The Odd Couple is an ABC network sitcom based on Neil Simon's 1965 play, developed by Garry Marshall and Jerry Belson, starring Tony Randall & Jack Klugman.
The show premiered on September 24, 1970 and ended on March 7, 1975 after five seasons and 114 episodes.
During the show's original run, it had mediocre ratings.
Plot
The show centered on two mismatched friends, Felix Unger (a neat & tidy man who works as a photographer) and Oscar Madison (a sloppy, casual man who works as a sports journalist for the New York Times) who share a place together after Felix's wife divorces him.
Cast
Tony Randall as Felix Unger
Jack Klugman as Oscar Madison
Al Molinaro as Murray Greshler
Larry Gelman as Vinnie
William Woodson as the voice of the Narrator
Brett Somers as Blanche Madison
Archie Hahn as Roger [season 4]
Bill Quinn as Dr. Melnitz [seasons 3-5]
Doney Oatman as Edna Unger [seasons 3-5]
Elinor Donahue as Miriam Welby [seasons 3-4]
Janis Hansen as Gloria Unger [seasons 2-5]
Penny Marshall as Myrna Turner [seasons 2-5]
Garry Walberg as Speed [seasons 1-4]
Joan Hotchkis as Dr. Nancy Cunningham [seasons 1-2]
Pamelyn Ferdin as Edna Unger [seasons 1-2]
Monica Evans as Cecily Pigeon [season 1]
Carole Shelley as Gwendolyn Pigeon [season 1]
Ryan McDonald as Roy [season 1]
Accolades
Tony Randall & Jack Klugman were nominated for Emmy Awards during each year of the show's run. Jack Klugman won two Emmys in 1971 & 1973 and Tony won an Emmy in 1975. It was also nominated for an Emmy Award for "Outstanding Comedy Series" in 1971, 1972 and 1974.
Community content is available under
CC-BY-SA
unless otherwise noted.