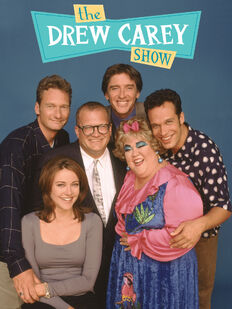 The Drew Carey Show is an ABC network sitcom, created by comedian Drew Carey and Bruce Helford.
The show first premiered on September 13, 1995 and ranked among the top 30 programs for four seasons, but after declining ratings in the last two seasons of the series, "The Drew Carey Show" came to an end on September 8, 2004 after 9 seasons & 233 episodes.
Plot
Drew Carey is a fictionalized version of himself, a self-proclaimed "everyman". Drew Carey (the actor) has been quoted as saying his character is what the actor would have been if he had not been an actor. He has a "gang" of friends who embark with him on his everyday trials and tribulations.
Drew's friends include erudite, but unambitious Lewis (Ryan Stiles), excitable dimwitted Oswald (Diedrich Bader) and his friend (later on & off girlfriend) Kate (Christa Miller).
In the final two seasons, Kate gets married and moves to Guam, in the same two-part episode that introduces and develops Drew's relationship with Kellie (Cynthia Watros), which carries on over the final two seasons.
For the show's first seven seasons, Drew's workplace is the office of fictional Cleveland department store Winfred-Louder, where he has worked for years and still works as Assistant Director of Personnel.
One of his coworkers is Mimi Bobeck (Kathy Kinney), a large woman with a clownish wardrobe, a lot of make-up (including her trademark bright blue eye shadow) and a foul mutual dislike for Drew. The two eventually become closer (although still maintaining a less heated rivalry), primarily because Mimi fell in love with and married Drew's crossdressing heterosexual brother Steve, a frequently recurring character.
In the first season they work for the unseen Mr. Bell (Kevin Pollak), only seen in the season one finale, to which he is greeted with applause; in later seasons, their boss and sometimes-co-worker is Nigel Wick (Craig Ferguson), an eccentric, sadistic and unlucky Englishman.
In the final two seasons of the series, they work for peaceful, hippie-like Evan (Kyle Howard) and the much more professional Scott (Jonathan Mangum), tech-smart but naïve twenty-somethings who own the Neverending Store, an online retailer with offices in the same location.
In addition to his day job, Drew (along with Oswald, Lewis and Kate, who replaced from around Season 5 onwards by Mimi) runs a small business out of his garage, selling Buzz Beer, a caffeinated alcoholic drink. It becomes popular in the region and is sold at the group's hangout, The Warsaw Tavern.
Cast
Main Characters
Drew Carey as Drew Allison Carey
Ryan Stiles as Lewis Kiniski
Diedrich Bader as Oswald Lee Harvey
Kathy Kinney as Mimi Bobeck
Christa Miller as Kate O'Brien [seasons 1-7]
Craig Ferguson as Nigel Wick [seasons 2-9]
Cynthia Watros as Kellie Newmark [seasons 8-9]
Katy Selverstone as Lisa [episodes 2-25, 33 ]
Robert Torti as Jay Clemens [episodes 10-25, 126]
Kevin Pollak as the voice of Mr. Bell [season 1]
John Carroll Lynch as Steve Carey [seasons 3-8]
Nan Martin as Mrs. Dotty Louder [seasons 1-5]
Regular Guest Stars
Marion Ross as Beulah Carey (Drew's mother)
Stanley Anderson as George Carey (Drew's father)
Adrienne Barbeau as Kim Harvey (Oswald's mother)
Tammy Faye Bakker as Mother Bobeck (Mimi's mother)
Lynn Wanlass as Gigi Bobeck (Mimi's sister)
Matthew Josten as King Augustus Antonio Carey (Drew's nephew; Steve & Mimi's son)
June Lockhart as Misty Kiniski
Ratings
"The Drew Carey Show" finished its first season (1995–1996) barely in the Top 50, placing 48th in the Nielsen ratings, with an average rating of 10.1.
The show's second season did considerably better, making it into the Top 20 finishing its second season (1996–1997) 18th in the Nielsen ratings with an average rating of 11.5. Viewership increased 13.9% from season one.
The show finished its third season (1997–1998) at a higher place in the ratings, placing 16th with an average rating of 11.1 during the season; however, the ratings share was a drop of 3.5% from the second season.
During its fourth season (1998–1999), "The Drew Carey Show" finished the season in the Nielsen ratings higher in the Top 20 making it to 14th place but with an average rating of 9.9, a decrease of 10.8% from the third season.
The show finished its fifth season (1999–2000) 24th in the Nielsen ratings, the first time since season one that the show was not in the Top 20, with an average rating of 9.5, a decrease of 4% from the fourth season. This was a much smaller drop than many series suffered (given the erosion of network audiences). This was also a smaller drop than it suffered the season before.
The show's sixth season (2000–2001) finished 41st with an average rating of 8.23, a decrease of 13.4 percent from the fifth season.
ABC signed a new contract to keep "The Drew Carey Show" on through a ninth season even though the show had yet to enter its seventh season (2001–2002) at that time. The season saw one of the show's biggest drops in ratings, finishing 57th with an average rating of 5.9, a significant drop of 28.3% from the sixth season.
The show finished its eighth season (2002–2003) season 119th with an average rating of 3.29, a drop of 44.23 percent from the seventh season which caused ABC to put the series on hiatus, airing the rest of the season during the summer of 2003.
Unable to get out of the contract, ABC was forced to allow the show to film a ninth season, paying three million dollars per episode. Not doing well enough to receive a time slot on ABC's fall schedule in 2003, "The Drew Carey Show" had its ninth and final season burned off during the summer of 2004 and the series finale was viewed by a little over 5 million viewers.
Video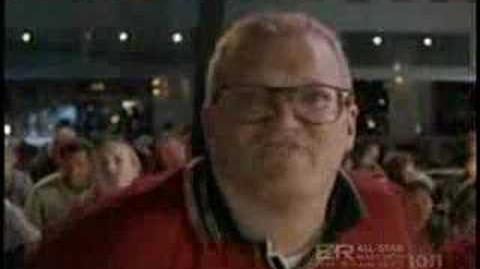 Community content is available under
CC-BY-SA
unless otherwise noted.