This page does not adhere to the layout guide.

Please help the ABC Wiki by editing this page to be conform the set layout guidelines.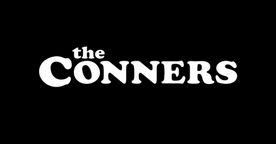 The Conners is an ABC network sitcom series created by Matt Williams, and developed by Bruce Helford, Bruce Rasmussen & Dave Caplan which premiered on October 16, 2018. It was renewed for a third season in 2020.
It is a spin-off series of the ABC sitcom, Roseanne.
Summary
The series follows the Conner family after the death of Roseanne.
Cast
John Goodman as Dan Conner
Laurie Metcalf as Jackie Harris
Sara Gilbert as Darlene Conner-Healy
Lecy Gorason as Becky Conner
Michael Fishman as DJ Conner
Emma Kenney as Harris Conner-Healy
Ames McNamara as Mark Conner-Healy
Jayden Rey as Mary Conner
Maya Lynne Robinson as Geena Williams-Conner
Recurring Cast
Mary Steenburgen as Marcy Bellinger
James Pickens, Jr. as Chuck Mitchell
Natalie West as Crystal Anderson
Estelle Parsons as Beverly Harris
Johnny Galecki as David Healy
Juliette Lewis as Blue
Justin Long as Neil
Matthew Broderick as Peter
Jay R. Ferguson as Ben
Sarah Chalke as Andrea
Katey Sagal as Louise
Production
Development
On May 29, 2018, ABC cancelled "Roseanne" following remarks made by Roseanne Barr, who starred as Roseanne Conner, on Twitter about Valerie Jarrett, a former advisor to Barack Obama.
In June of 2018, reports swirled that the show could possibly be re-tooled as a spin-off focusing on Sara Gilbert's character, Darlene.
Around June 15, 2018, reports emerged that ABC was close to making a deal to indeed continue the show as a Darlene-centric program.
Barr is not involved in any way in the new program and she likely received a one-time payment in return; her racism scandal will be addressed on the show.
John Goodman had stated that Roseanne Conner will be killed off (which indeed was the case).
On June 21, 2018, it was announced that ABC had officially ordered a 10-episode spin-off tentatively titled "The Conners", and that it would involve every cast member except Barr.
On August 28, 2018, Emma Kenney, Ames McNamara, and Jayden Rey, who starred as Harris Conner-Healy, Mark Conner-Healy, and Mary Conner respectively, throughout the tenth season of Roseanne, were subsequently officially confirmed as series regulars for The Conners.
On December 15, 2018, it was reported by Deadline Hollywood that preliminary negotiations were underway with the cast for a second season.
Reception
External links
Community content is available under
CC-BY-SA
unless otherwise noted.