Jurassic World: Dominion Dominates Fandom Wikis - The Loop
Play Sound
This page does not adhere to the

layout guide

.

Please help the ABC Wiki by editing this page to be conform the set layout guidelines.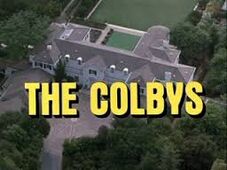 The Colbys is an ABC network primetime soap opera TV series and spin-off of "Dynasty" created by Richard & Esther Shapiro, and Robert & Eileen Pollock.
The series aired from November 20, 1985 to March 26, 1987, lasting for two seasons & 49 episodes.
Plot
The series centered on the lives of the rich & powerful Colby family of California.
Cast
John James as Jeff Colby
Emma Samms as Fallon Carrington Colby
Charlton Heston as Jason Colby
Barbara Stanwyck as Constance "Connie" Colby Patterson (1985-1986)
Stephanie Beacham as Sable Scott Colby
Maxwell Caufield as Miles Colby
Tracy Scoggins as Monica Scott Colby
Claire Yarlett as Bliss Colby Rostov
Katharine Ross as Lady Francesca "Frankie" Scott Colby Hamilton Langdon
Ricardo Montalbán as Zachary "Zach" Powers
Michael Parks as Philip Colby (1986-1987)
Joseph Campanella as Henry "Hutch" Corrigan (1985-1986)
Ken Howard as Garrett Boydston (1985-1986)
Ivan Bonar as Henderson Palmer
Alison Evans as Enid Palmer
Charles Van Eman as Sean McAllister (1985-1986)
Peter White as Arthur Cates (1985-1986)
Philip Brown as Neil Kittredge (1985-1986)
Gary Morris as Wayne Masterson (1986)
David Hedison as Roger Langdon (1986)
Ray Wise as Spiros Koralis (1986)
Vincent Baggetta as John Moretti (1986)
Kim Morgan Greene as Channing Carter Colby (1986-1987)
Adrian Paul as Nikolai "Kolya" Rostov (1986-1987)
Anna Levine as Anna Rostov (1986-1987)
James Houghton as Senator Cash Cassidy (1986-1987)
Shanna Reed as Adrienne Cassidy (1986-1987)
Coleby Lombardo as Scott Cassidy (1986-1987)
Kevin McCarthy as Lucas Carter (1986-1987)
Ratings & Criticism
Although "The Colbys" was much hyped in 1985, garnering high ratings for its premiere episode, and also the winner of a 1986 People's Choice Award for "New Dramatic TV Program", the show was ultimately a ratings disappointment.
The show's first season finished in 35th place, in part due to competition with NBC's "Cheers" and "Night Court" on Thursday night (by comparison, "Dynasty" finished in 7th place the same season).
The series was renewed for a second season but fared much worse. Now not only being scheduled opposite NBC's "Cheers" and "Night Court", but also rival soap, "Knots Landing" on CBS (for a few weeks), "The Colbys" finished 64th for the year prompting the network to cancel the show.
The series did not fare well among critics either, with one of its main criticisms being that it was simply a copy of "Dynasty."
The Los Angeles Times stated "It's not a spin-off, it's a clone—as close a replica as ABC and the Dynasty producers could concoct, right down to the credits."
The Pittsburgh Press compared the scripts to Dick and Jane books for children.
In their Directory To Primetime TV Shows, television historians Tim Brooks and Earle Marsh stated that the series likely failed because it was "too close a copy" of "Dynasty."
Even some cast members were vocal about their dissatisfaction with the series.
In 1986, Barbara Stanwyck opted to end her contract and leave the series after its first season, reportedly calling it "a turkey" and telling co-creator Esther Shapiro, "This is the biggest pile of garbage I ever did" and that "It's one thing to know you're making a lot of money off vulgarity, but when you don't know it's vulgar - it's plain stupid."
On the contrary, Charlton Heston always had supported the show and stated its cancellation "was premature" as "we were coming closer to being a creative production team that could make the kind of show we'd planned on from the beginning."
Dynasty star Joan Collins categorically refused to make any appearances in it herself, believing it would have caused "massive confusion between the two shows" and urged her fellow Dynasty castmates not to involve themselves with it either.