No Title

No Title

No information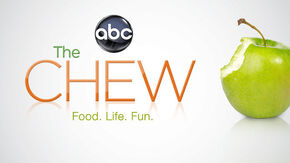 The Chew is an American talk show/cooking show that airs in the United States on the ABC as part of the network's weekday daytime lineup. The name and format was inspired by the talk show The View, though centering on food-related and lifestyle topics. Each episode has its own titled based upon the episode's theme. The program also airs in Canada on the stations of the Citytv television system. The show is recorded at ABC Studio 40 West 66th Street, New York.
It premiered on September 26, 2011[1] and replaced the soap opera All My Children.[2] It is hosted by Iron Chef America's Mario Batali and Michael Symon, Top Chef's Carla Hall, What Not to Wear's Clinton Kelly (who introduces the guests and welcomes everyone to the show) and Dr. Mehmet Oz's daughter, author and wellness enthusiast Daphne Oz.
Evette Rios (formerly one of the host's "buddies" on Rachael Ray), Marc Summers (host of the Food Network series Unwrapped and former host of Double Dare), former Food Network personality Danny Boome and Jason Roberts serve as correspondents for taped segments.[3]
Guest co-hosts have included Emeril Lagasse, Scott Conant, Sunny Anderson and Evette Rios.
The show is produced by British-Australian former talk show host Gordon Elliott[4], who also serves as the show's off-camera announcer.
On April 11, 2012, ABC announced that The Chew has been officially renewed for a second season.[5]
Main segments
Edit
The show features segments that are specially suited for each host. They include:
C & C Food Factory - Carla Hall and Clinton Kelly team up to cook a dish. The segment usually starts with the two dancing to techno music.
Clinton's Craft Corner - Clinton Kelly and his co-hosts and the day's guest participate in a craft activity.
Clinton's From Plate to Platter - Clinton Kelly shows how to turn one regular-size dish into an appetizer platter for at-home entertaining.
Clinton's Entertaining with Style - Clinton Kelly shows how to make table designs for any kind of party.
Clinton's Cooltide Yuletide - During the Christmas season, Clinton Kelly gives tips on how to make the season less stressful and more fun.
Mario's Simple Italian - Mario Batali cooks a simple-to-make Italian dish.
Batali and Beyond - a segment featuring Mario Batali preparing a dish and going through its history.
Michael's Five in Five - Michael Symon creates a dish with five ingredients in five minutes or less at $5 or less per serving.
Carla's Rescued Recipes - Carla Hall updates a dish from her family.
Carla's 'Gon'Be' Moments - Carla Hall takes something that failed in the kitchen and turns it into something that works.
Daphne's The Power of Food - Daphne Oz talks about nutrition and the effects of certain nutrients in human health. An interview with a doctor or nutritionist sometimes is part of the segment.
Daphne's The Wisdom of Oz - Daphne Oz makes a favorite nutritious(and sometimes vegetarian) dish of the Oz family.
Daphne: Fridge Raider - Daphne Oz goes to a viewer's home, raids their refrigerators and she and the viewer creates a meal from the ingredients she finds.
Daphne's Dark Side - Daphne Oz prepares a dish that is more decadent and less healthy than what she usually makes.
Cooking with the Stars - Cooking segment with that day's guest.
Chew 'n A - Viewer mail and audience question-and-answer segment.
Celebrity Egg Timer - The hosts ask a celebrity guest as many rapid-fire questions as possible in sixty seconds.
Other cooking segments with Michael Symon are accompanied by a graphic reading "Michael's Family Table".
Last Bites
Edit
Starting with the May 7, 2012 episode, the co-hosts host a segment only for the show's website called Last Bites in which they spend 3-6 more minutes with the day's guests.
Clinton Kelly announced on the June 4, 2012 episode that in September 2012 the show's first cookbook titled The Chew:Food. Life. Fun. will be released to bookstores, but it can currently be pre-ordered at the show's website.
Week of
Viewers
(millions)
Audience
25-54
Audience
18-49
Audience
18-34
Note
September 26, 2011
2.10
1.0/ 6
0.7/ 5
0.5/ 3
[6]
October 3, 2011
1.78
0.8/ 5
0.6/ 4
0.4/ 3
[6]
October 10, 2011
1.86
0.9/ 6
0.6/ 4
0.4/ 3
[6]
October 17, 2011
1.94
0.9/ 5
0.6/ 4
0.4/ 2
[7]
October 24, 2011
2.16
1.1/ 7
0.8/ 5
0.5/ 3
[8]
October 31, 2011
2.16
1.0/ 7
0.7/ 4
0.4/ 3
[9]
November 7, 2011
2.25
1.1/ 6
0.7/ 4
0.5/ 3
[10]
November 14, 2011
2.384
0.5
[11]
November 21, 2011
2.51
1.1
0.7
0.4
[12]
November 28, 2011
2.33
1.1
0.8
0.4
[13]
December 5, 2011
2.38
1.1/ 7
0.7/ 5
0.5/ 3
[14]
December 12, 2011
2.50
1.1/ 7
0.8/ 5
0.5/ 3
[15]
December 19, 2011
2.59
1.1/ 7
0.8/ 5
0.5/ 3
[16]
December 26, 2011
2.77
[17]
January 2, 2012
2.12
0.9/ 5
0.6/ 4
[18]
January 16, 2012
2.44
1.0/ 6
0.7/ 5
0.5/ 3
[19]
January 23, 2012
2.34
1.0/ 6
0.7/ 4
0.4/ 3
[20]
January 30, 2012
2.23
1.0/ 6
0.8/ 5
0.5/ 4
[21]
February 6, 2012
2.38
1.1/ 6
0.7/ 5
0.5/ 3
[22]
February 13, 2012
2.30
1.0/ 6
0.7/ 4
0.4/ 3
[23]
February 20, 2012
2.44
1.1/ 6
0.8/ 5
0.5/ 3
[24]
February 27, 2012
2.49
1.1/ 6
0.7/ 5
0.4/ 3
[24]
March 5, 2012
2.23
0.9/ 6
0.7/ 4
0.5/ 3
[24]
March 12, 2012
2.14
0.9/ 6
0.6/ 4
0.4/ 3
[25]
March 19, 2012
2.04
0.9/ 6
0.6/ 4
0.3/ 2
[26]
March 26, 2012
2.21
0.9/ 6
0.6/ 4
0.3/ 2
[27]
April 2, 2012
2.11
0.9/ 6
0.6/ 4
0.4/ 3
[28]
April 9, 2012
1.99
0.9/ 5
0.6/ 4
0.4/ 3
[29]
April 16, 2012
2.12
1.0/ 6
0.6/ 4
0.4/ 3
[30]
April 23, 2012
2.27
0.9/ 6
0.7/ 4
0.4/ 3
[31]
April 30, 2012
2.08
0.9/ 6
0.6/ 4
0.4/ 3
[32]
May 7, 2012
2.09
0.8/ 5
0.6/ 4
0.4/ 3
[33]
May 14, 2012
2.13
0.9/ 6
0.7/ 4
0.5/ 3
[34]
May 21, 2012
2.18
[35]
References
Edit
External links
Edit
Template:U.S. daytime talk shows Template:ABCNetwork Shows (current and upcoming)
Cite error: <ref> tags exist, but no <references/> tag was found