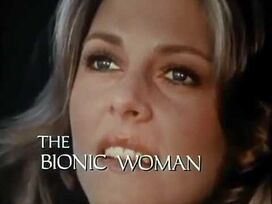 The Bionic Woman is an ABC network sci-fi\action series and spin-off of The Six Million Dollar Man, starring Lindsay Wagner in the title role.
The show first premiered on January 14, 1976 and aired on ABC until May 4, 1977 before moving to NBC for its third and final season. It ended on May 13, 1978 after 3 seasons & 58 episodes.
In 2007, a short-lived remake of the show aired on NBC.
Plot
The show was about professional tennis player Jaime Sommers, who becomes critically injured during a skydiving accident. Her life is saved by Oscar Goldman (Richard Anderson) and Dr. Rudy Wells (Martin E. Brooks) with bionic surgical implants similar to those of The Six Million Dollar Man Steve Austin (Lee Majors).
Through the use of cybernetic implants (known as bionics), Jaime is gifted with an amplified bionic ear which allows her to hear at low volumes and at different frequencies from most humans and over uncommonly long distances. She also has extraordinary strength in her bionic right arm and in both legs that enables her to run at speeds exceeding 60 miles per hour.
Jamie is then assigned to spy missions of her own as an occasional agent of the Office of Scientific Information, while under the employment cover as a school teacher of middle school students.
Cast
Lindsay Wagner as Jaime Sommers
Richard Anderson as Oscar Goldman
Martin E. Brooks as Dr. Rudy Wells
Community content is available under
CC-BY-SA
unless otherwise noted.