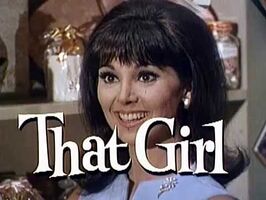 That Girl is an ABC network sitcom series created by Bill Persky & Sam Denoff, starring Marlo Thomas in the lead role.
The show aired from September 8, 1966 to March 19, 1971, lasting for five seasons & 136 episodes.
Plot
The series centered on Ann Marie, an aspiring actress trying to make it big in New York City and works various temp jobs in order to support herself in between her various auditions & bit parts.
Cast
Marlo Thomas as Ann Marie
Ted Bessell as Donald Hollinger
Lew Parker as Lew Marie
Rosemary De Camp as Helen Marie
Dabney Coleman as Dr. Leon Bessemer
Bonnie Scott as Judy Bessemer
Bernie Kopell as Jerry Bauman
Arlene Golonka as Margie Bauman
Carol Ann Daniels as Ruth Bauman
Alice Borden as Ruth Bauman
Ruth Buzzi as Margie "Pete" Peterson
Ronnie Schell as Harvey Peck
George Carlin as George Lester
Mabel Albertson as Mildred Hollinger
Frank Faylen as Bert Hollinger
Billy De Wolfe as Jules Benedict
Production
According to Marlo Thomas, she was approached by ABC executive Edgar Scherick, who saw her in a screen test for a failed pilot, but still wanted to feature her in a project. Scherick gave her several scripts to read, none of which she liked, as they all focused on a woman who was either a traditional girlfriend, wife or secretary to someone else; Thomas wanted a show in which the main character was a young, modern woman focused on her own dreams and aspirations.
Although never officially credited as such (Persky and Denoff were the series' creators and official executive producers), Thomas was also a de facto executive producer of the series through her Daisy Productions, which she formed specifically for the series; it was credited on-screen as the production company. She originally wanted to name the sitcom "Miss Independence" (which was the nickname given to her by her parents).
Community content is available under
CC-BY-SA
unless otherwise noted.