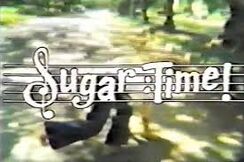 Sugar Time! is an ABC network sitcom series created by James Komack which aired from August 13, 1977 to May 29, 1978, lasting for two seasons & 11 episodes (leaving two of them unaired).
It was produced by The Komack Company.
Plot
The series centered on fictional female rock music trio Sugar which consisted of hat check girl Maxx Douglas, dental hygenist Maggie Barton and dance instructor Diane Zucerkan.
Sugar performed at a Los Angeles night club called the Tryout Room, owned by Al Marks.
Cast
Barbi Benton as Maxx Douglas
Marianne Black as Maggie Barton
Didi Carr as Diane Zuckerman
Wynn Irwin as Al Marks