Jurassic World: Dominion Dominates Fandom Wikis - The Loop
Play Sound
This page does not adhere to the

layout guide

.

Please help the ABC Wiki by editing this page to be conform the set layout guidelines.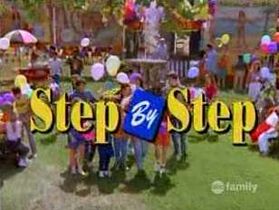 Step By Step is a ABC Network sitcom series created by William Bickley & Michael Warren. It first aired on ABC from September 20, 1991 to August 15, 1997; it was moved to CBS where it aired from September 19, 1997 to June 26, 1998.
Plot
Set in Port Washington, Wisconsin, the series was about Frank Lambert, a divorced contractor & father of three (sons J.T. and Brendan & daughter Alicia) and Carol Foster, a divorced beautician and mother of three children (daughters Dana & Karen and son Mark) who get married after going on vacation in Jamaica, and become a blended family.
Cast
Patrick Duffy as Frank Lambert
Suzanne Somers as Carol Foster Lambert
Staci Keanan as Dana Foster
Sasha Mitchell as Cody Lambert [seasons 1-5]
Brandon Call as John Thomas "J.T." Lambert
Angela Watson as Karen Foster
Christine Lakin as Alicia "Al" Lambert
Christopher Castile as Mark Foster
Josh Byrne as Brendan Lambert [seasons 1-7]
Jason Marsden as Rich Halke [season 3; seasons 5-7]
Emily Mae Young as Lilly Foster Lambert [seasons 6-7]
Alexandra Adi as Samantha Milano [seasons 6-7]
Patrika Darbo as Penny Baker [season 1]
Peggy Rea as Ivy Baker [season 1]
Bronson Pinchot as Jean-Luc Rieupeyroux [season 6]
Production
"Step By Step" was created and executive produced by William Bickley and Michael Warren, and developed and executive produced by Thomas L. Miller and Robert L. Boyett.
It was produced by Bickley-Warren Productions, Miller-Boyett Productions and Lorimar Television (the latter doing so from 1991 to 1993, when Warner Bros. Television assumed production responsibilities for it and Lorimar's other television series after shared corporate parent Time Warner consolidated the two production companies).
The casting of Patrick Duffy fulfilled a contractual obligation that Lorimar made to give him a new show after his previous series, "Dallas" (which was also produced by Lorimar), had ended its run.
It was created off of the idea of combining two of the most popular television stars from the 1970s known for their good looks (Duffy and Somers) to star as parents to attract adult viewers, with current teen celebrities (Staci Keanan from "My Two Dads" and "Going Places", Brandon Call from "Baywatch" and Sasha Mitchell from "Dallas") to star as their children to attract children and teen viewers.
Staci Keanan and Christopher Castile had previously appeared on the Miller-Boyett-produced ABC sitcom Going Places, which debuted the season prior to Step By Step, playing characters with no familial relation (Keanan, who played Lindsay Bowen, the teenage neighbor of the show's adult characters as a series regular and Castile as a recurring character).
Keanan was the first of the two Going Places stars to be cast on Step By Step in the spring of 1991.
Castile (who had played gawky child Sam Roberts on "Going Places") brought the same character traits to the Mark Foster role, which was speculated to be Miller-Boyett's continued attempt to give the "Family Matters" character Steve Urkel a white counterpart.
In a similar instance of hiring actors over from their other TV series, the producers also cast Josh Byrne as Brendan Lambert on "Step By Step" after he had just finished a supporting role as Patrick Kozak on Miller-Boyett's single-season CBS sitcom, "The Family Man".
When the series was casting its characters, child actor Jarrett Lennon originally landed the role of Mark Foster. Lennon had been chosen by the producers after guest starring in the last original episode of the Miller-Boyett series "The Hogan Family" which was produced in late 1990.
After shooting the original (unaired) pilot for "Step By Step", Lennon was dismissed from the role of Mark, and the producers later replaced him with Castile (who had blonde hair like on-screen mother Somers, as opposed to Lennon having brown hair). Most of Lennon's pilot scenes were reshot with Castile, but during the first season, footage of Lennon remained in the show's opening title sequence.
Lennon only appeared in wide shots with the Lambert/Foster family or, in the case of Suzanne Somers' credit scene, fleetingly appearing at the bottom of camera view as the kids huddled around Somers. All traces of Lennon were edited out by the second season.
The Move to CBS
In 1997, ABC canceled "Step By Step" after six seasons due to declining ratings; the network had delayed the show's fifth season to mid-season (premiering in March 1997).
Along with "Family Matters", the show moved to CBS in the fall of 1997, as that network attempted to build its own Friday night lineup of family-friendly situation comedies called the "CBS Block Party".
The show's ratings (which had been declining for several seasons) continued to fall and it ended its run in June 1998.
"Step by Step" had no official series finale although the series' last episode centered on Frank and Carol considering selling the house.