This page does not adhere to the

layout guide

.

Please help the ABC Wiki by editing this page to be conform the set layout guidelines.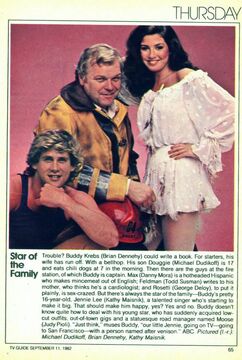 Star of the Family is an ABC network sitcom created by Stu Silver & Rick Mitz.
The series debuted on September 30, 1982 (airing on Thursdays after "Joanie Loves Chachi"), but was cancelled on December 9, 1982 after 10 episodes aired.
Plot
Jennie Lee Krebs, the 16-year-old daughter of Fire Captain Buddy Krebs starts getting offers in show business due to her singing talents in the country\pop genre & signs with manager Judy "Moose" Wells which frightens Buddy because he doesn't want his daughter to grow up too fast.
Cast
Brian Dennehy as Leslie "Buddy" Krebs
Kathy Maisnik as Jennie Lee Krebs
Michael Dudikoff as Dougie Krebs
George DelHoyo as Frank Rosetti
Todd Susman as Leo Feldman
Robert Clotworthy as Bigelow
Danny Mora as Max Hernandez
Judy Pioli as Judy "Moose" Wells