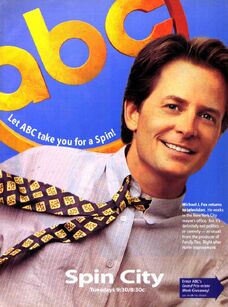 Spin City is an ABC network sitcom, created by Gary David Goldberg & David Lawrence.
The show aired from September 17, 1996 to April 30, 2002, lasting for six seasons & 145 episodes.
Plot
The series presents a fictional local government running New York City and follows its Mayor Randall Winston (Barry Bostwick) and his staff as they run the city, although the main person in charge is Deputy Mayor Mike Flaherty (Michael J. Fox).
Mike is excellent at his job, dealing with spin and lies, but not so good with his personal life, which he often neglects.
Other members of staff at City Hall include press secretary Paul Lassiter (Richard Kind), the office cheapskate, suck-up, and noted coward, who has a habit of being a loudmouth and is often kept in the dark about things; chief of staff Stuart Bondek (Alan Ruck), who loves the ladies and is often very sexist; and head of minority affairs Carter Heywood (Michael Boatman), a gay black man with a suicidal dog named Rags.
Also on the staff are speech writer James Hobert (Alexander Chaplin), who is easily led and quite naive; Mike's secretary Janelle Cooper (Victoria Dillard); and accountant Nikki Faber (Connie Britton). Janelle later becomes the mayor's secretary and Stacey Paterno (Jennifer Esposito) joins the show as Mike's secretary and Paul's arch-enemy. Together, this group helps run City Hall, improves the Mayor's image, and covers for his frequent gaffes—while sorting out their personal lives.
At one point in development, the show was simply called "Spin" and at the beginning of the series, Mike is dating reporter Ashley Schaeffer (Carla Gugino). In early promos for the series, the relationship is shown to be the main premise of the show, but however, after just a few episodes, Ashley and Mike broke up and the character was written out.
The nature of Carter and Stuart's relationship became a running gag during the series. The two ended up becoming so close, their friendship was mocked by others, and their arguments sounded so much like husband and wife, a whole episode was dedicated to the notion that the two argued like a married couple.
The two ended up meeting an older duo of best friends (one black and one white) who were virtual twins of Carter and Stuart in terms of personality; when it was discovered that the two older versions had become a couple, it ended up scaring Stuart quite a bit.
For his part, Stuart tends to be very possessive of his time with Carter, going so far as to be genuinely jealous when Carter spends more and more time with new campaign manager Caitlin (Heather Locklear).
In spite of all the jokes and innuendo, they prove to be best friends willing to do anything for both their friends and each other. This, too was considered an important moment in television history, with Douglas noting, "I love the fact that the writers of Spin City explored the fact that gay men and heterosexual men can be friends. The straight man doesn't have to worry that the gay man might hit on him."
Later Years
In 1998, Michael J. Fox announced he had Parkinson's disease. As a result, a new character, Caitlin Moore (Heather Locklear) was introduced at the start of the 1999–2000 season to help share Mike's workload.
Caitlin was Mayor Winston's campaign manager as he decided to run for Senator, and much friction occurred between Mike and Caitlin about who was in charge of the Mayor. Their relationship was more complex than a simple rivalry, and hints were dropped that it would become more than platonic.
In 2000, as his symptoms worsened, Fox announced that he was leaving the show at the end of the season to spend more time with his family and to raise money for awareness of and research into Parkinson's. His character left City Hall at the end of the show's fourth season, taking the blame for an alleged Mafia link the Mayor unknowingly had.
A brief coda to the fourth season finale revealed that the character moved to Washington, D.C., becoming an environmental lobbyist and there (offscreen) meeting a senator named Alex P. Keaton, the name of the character Michael J. Fox played on "Family Ties". Executive Producer/co-creator Bill Lawrence also left the show, along with a few cast members and writers/producers.
The remaining producers decided to carry on the series with a new lead.
For the show's fifth season, production moved from New York to Los Angeles, and Charlie Sheen, as new Deputy Mayor Charlie Crawford, joined Caitlin, Paul, Stuart, Carter, and the Mayor.
The characters of Nikki, James and Janelle were not carried over & were simply dropped without explanation to be replaced by assistant Angie Ordonez (Lana Parrilla). This character likewise left after one season without explanation.
Cast
Michael J. Fox as Mike Flaherty
Barry Bostwick as Mayor Randall Winston
Carla Gugino as Ashley Schaeffer
Richard Kind as Paul Lassiter
Alan Ruck as Stuart Bondek
Michael Boatman as Carter Heywood
Connie Britton as Nikki Faber
Alexander Chaplin as James Hobert
Barry Bostwick as Mayor Randall Winston
Victoria Dillard as Janelle Cooper
Jennifer Esposito as Stacey Paterno
Heather Locklear as Caitlin Moore
Charlie Sheen as Charlie Crawford
Lana Parrilla as Angie Ordonez
Accolades
During his time on the show, Michael J. Fox won one Primetime Emmy, out of four nominations. The show won four Golden Globes (three for Fox and one for Charlie Sheen), out of its nine nominations.
Community content is available under
CC-BY-SA
unless otherwise noted.