This page does not adhere to the

layout guide

.

Please help the ABC Wiki by editing this page to be conform the set layout guidelines.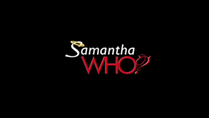 Samantha Who? is an ABC network sitcom series created and produced by Cecelia Ahern & Donald Todd, starring Christina Applegate in the lead role.
The series aired from October 15, 2007 to July 23, 2009, lasting for two seasons & 35 episodes.
Plot
The series centered on Samantha Newly, a 30-year-old vice president of a real estate firm who develops retrograde amnesia after a hit & run accident. After realizing how selfish & unlikable she was before her accident, she decides to make amends to her family & friends in order to become a better person.
Cast
Christina Applegate as Samantha "Sam" Newly
Jennifer Esposito as Andrea Belladonna
Kevin Dunn as Howard Newly
Jean Smart as Regina Newly
Melissa McCarthy as Dena
Tim Russ as Frank
Barry Watson as Todd Deepler
Production History
On May 11, 2007, the series was officially greenlit and given a thirteen-episode order. It was originally titled "Sam I Am" until ABC renamed it "Samantha Be Good" due to conflicts with the estate of Dr. Seuss. TV Guide later reported that ABC had changed the title of the series once more to "Samantha Who?".
Early television promotions for the series, playing off of the concept of its lead character's amnesia, appeared without stating any specific title. The lack of stated title (with a question mark shown instead) was attributed in promotions to Christina Applegate's character not remembering the name of the series.
The series premiered on October 15, 2007 at 9:30PM Eastern/8:30PM Central and moved to 9:00PM Eastern/8:00PM Central on Mondays on November 26, 2007.
On October 25, 2007, ABC ordered six additional scripts for the series and on October 30, 2007, ABC ordered a full season of 22 episodes, but due to the 2007–2008 Writers Guild of America strike, only 15 episodes were produced for season one.
On February 11, 2008, ABC picked up "Samantha Who?" for the 2008-09 television season.[8]
On October 31, 2008, ABC ordered seven more episodes of the series, bringing the total number of episodes for the show's second season to 20. The announcement came in advance of mandated budget cuts at ABC Studios, which produces the series.
During the 2008-09 television season, "Samantha Who?" went on hiatus and returned in a new timeslot on Thursday, March 26, 2009, following the series, "In the Motherhood" before being pulled.
On May 18, 2009, ABC announced that they would not be renewing "Samantha Who?" for a third season.
The network burned off the show's final episodes on Thursday nights at 8:00PM Eastern/7:00PM Central from June 25, 2009 until the finale on July 23, 2009 (with additional episodes airing Thursday, July 2 and Thursday, July 9 at 8:30PM Eastern/7:30PM Central).