This page does not adhere to the

layout guide

.

Please help the ABC Wiki by editing this page to be conform the set layout guidelines.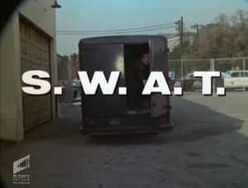 S.W.A.T. is an ABC network action\crime drama series which was a spin-off of the ABC series, "The Rookies", created by Robert Hamner, developed by Rick Husky and executively produced by Aaron Spelling & Leonard Goldberg.
The series aired from February 24, 1975 to April 3, 1976, lasting for two seasons and 37 episodes. A rebooted version of the series premiered on CBS in November of 2017.
The pilot for "S.W.A.T." aired as a two-part episode of "The Rookies" on February 17, 1975.
Plot
The series centered on the adventures of a Special Weapons And Tactics team (also known as S.W.A.T.) team operating in an unidentified California city.
Cast
Steve Forrest as Lieutenant Hondo Harrelson
Robert Urich as Officer Jim Street
Rod Perry as Sergeant David "Deacon" Kay
Mark Shera as Officer Dominic Luca
James S. Coleman as Officer T.J. McCabe
[[Category:ABC Shows]]