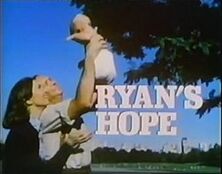 Ryan's Hope was an ABC network soap opera series created by Claire Labine & Paul Avila Mayer.
The show aired from July 7, 1975 to January 13, 1989, lasting for 13 seasons and 3,515 episodes.
It was produced by Labine-Mayer Productions (from 1975 to 1980) and American Broadcasting Companies.
Plot
The series revolved around the trials and tribulations within a large Irish-American family living in the Washington Heights neighborhood of Manhattan, New York City.
Production
In late 1974, ABC Daytime approached Claire Labine and Paul Avila Mayer, the head writers of CBS' Love of Life, about creating a new soap opera similar to General Hospital.
Labine and Mayer added a large Irish-American family (the Ryans) to what ABC was initially calling the show "City Hospital"; another of the show's working titles was "A Rage to Love," but that was soon changed.
A pub theme originated with Mayer's and Labine's work on the earlier soap Where The Heart Is: "On WTHI we had had a prolonged sequence with two characters who were having an affair... on the other side of town in a small Irish bar."
Ryan patriarch Johnny (Bernard Barrow) owned a bar called Ryan's (located across from fictional Riverside Hospital in New York City).
His wife, Maeve (Helen Gallagher), assisted him in his duties, as did their children: Frank, Patrick, Mary, and Siobhan (the younger daughter being introduced in the series in 1978, having spent the first three years of the series away from New York City). The Ryans and the wealthy Coleridges were the original core families of the show.
The soap took the then-unusual approach of situating itself in an actual community—the Washington Heights neighborhood of Upper Manhattan. Maeve's parish sat in the shadow of the George Washington Bridge, on 178th St.
References were often made to Central Park (Delia's Crystal Palace restaurant), Sheepshead Bay in Brooklyn (mob-owned fishing boats), and other localities to provide a sense of place. Labine said, "We wanted to show how New York has communities."
Labine and Mayer also served as the executive producers of the show at this point, with George Lefferts as the producer. Lefferts was soon replaced by Robert Costello, who remained with the show until 1978. Nancy Ford co-wrote the first episode with Labine and Mayer.
The original cast consisted of Nancy Addison Altman, Bernard Barrow, Faith Catlin, Justin Deas, Michael Fairman, John Gabriel, Helen Gallagher, Michael Levin, Malcolm Groome, Rosalinda Guerra, Ron Hale, Michael Hawkins, Earl Hindman, Ilene Kristen, Frank Latimore, Kate Mulgrew, Hannibal Penney, Jr., and Diana van der Vlis.
The premise of the show for its first two years involved the blue-collar, immigrant, Catholic Ryans and the three of their five upwardly mobile adult children still residing in NY: Frank, lawyer and aspiring local politician; Pat, physician at local Riverside Hospital; and Mary, aspiring journalist.
The show contrasted the cultures of conservative parents with their more liberated, '70s-drenched children.
Older morals about lifetime marriages, church-proscribed divorce, chastity outside of marital sanction were constantly being tested by New-World, New-Era urban values.
Frank's political campaign for city council was challenged by a chain of events surrounding his paying off the Coleridge son who knew of the affair Frank was having with Jillian Coleridge while married to needy, frantic Delia.
The political scandal angle was soon reiterated with Frank's short tenure in the state senate. Delia became involved with all three of Johnny Ryan's sons: Frank, Pat, and Dakota.
The quasi-incestuous focus was echoed in coming years by Frank's involvement with both Coleridge sisters, Jillian and Faith, and with Faith's involvement with Ryan brothers, Pat and Frank, and again with Jillian's involvement with half-brothers Frank and Dakota, and by gangster Michael Pavel's involvement with New York publisher/Frank's ex fiancee Rae Woodward (Louise Shaffer) and her teen daughter, Kim (Kelli Maroney).
Mary became irresistibly attracted to a reporter exposing Frank's blackmailing scandal, the fiery Jack Fenelli, and eventually moved in with him without benefit of marriage.
These extramarital and premarital affairs, the attendant children out of wedlock, the careerist women, the assertion of abortion rights: the clash of generational values in the Ryan clan was interesting to viewers, and there developed a passionate following for Kate Mulgrew's portrayal of Mary Ryan.
Mary's career and personal goals were given neurotic counterpoint in Delia's machinations with Mary's brothers.
After two years of growth and success, Ryan's Hope began encountering challenges. Michael Hawkins left the role of Frank Ryan in 1976, and subsequent replacements included Andrew Robinson (1976–1978), Daniel Hugh Kelly (1978–1981), Geoffrey Pierson (1983–1985), and John Sanderford (1985–1989). In late 1977, Kate Mulgrew announced she would be leaving in January 1978.
Following Mulgrew's departure from the show, three different actresses, Mary Carney, Kathleen Tolan, and Nicolette Goulet, portrayed the role Mary. It was Goulet who was in the role when storywriters Labine and Mayer decided to kill off the character in December 1979.
The writers initially wanted to kill off Mary when Mulgrew announced her decision to leave but ABC refused to allow the popular character to be killed off, going ahead with the three re-casts. When it became obvious that no one other than Mulgrew herself would be accepted in the role, the network finally agreed to let Mary die. Mary's sister, Siobhan, was brought to town to become romantically involved with a man, Joe Novak, who turned out to be a mobster, a storyline that offed Mary in a grisly bludgeoning murder when she and Jack were investigating the mafia ties of the fiancé.
Malcolm Groome chose to leave the role of Pat Ryan in 1978 and was replaced with John Blazo (1978–1979), Robert Finoccoli (1979), and Patrick James Clarke (1982–1983).
All these recasts left the writers struggling to give a voice to any of the Ryan children and left the show's core family feeling unfamiliar to viewers.
Other characters not related to the Ryans were also recast.
After Ilene Kristen left in January 1979, the role of Delia Reid was played by Robyn Millan (1979), Randall Edwards (1979–1982), and Robin Mattson (1984); Kristen returned to the show in the role from 1982–1983 (when she was fired due to weight gain) and 1986–1989.
After Faith Catlin was dropped from the show as Faith Coleridge in May 1976, she was replaced with Nancy Barrett (1976), Catherine Hicks (1976–1978), and Karen Morris-Gowdy (1978–1983, 1989). Richard Muenz originated the role of Joe Novak in 1979, but was replaced by Roscoe Born (1981–1983, 1988), Michael Hennessy (1983–1984), and Walt Willey (1986–1987, with Joe initially under the guise of "Erik Brenner").
Of the major characters not related to the core characters, only Louise Shaffer's Rae Woodard had any impact, seducing both Roger Coleridge and Frank Ryan who she became engaged to, manipulating a breakup with him and Jillian, whom she despised. After Frank broke off her engagement, Rae plotted to destroy his political career, but eventually she was exposed.
After her illegitimate daughter Kimberly (Kelli Maroney) was introduced, she became the focus of many storylines, including having an affair with the much younger Michael Pavel whom she had hired as her personal assistant after breaking him and Kimberly up. His murder by the mob ended this triangle and lead to Kim's departure and Rae's brief stay on the backburner of the storyline.
When the wealthy Kirklands were brought in briefly to glamourize the show, Rae literally became the show's leading character, subplanting the Ryan's.
After the Kirklands were written out, Rae became the instigator behind the Charlotte Greer storyline.
When Shaffer's contract was not renewed, she remained on a recurring basis until hired by "Search for Tomorrow" to replace Maree Cheatham where she was reunited with former "RH" lovers, Michael Corbett (Michael Pavel) and Peter Haskell (Hollis Kirkland).
Among the other characters not related to the Ryans who passed through was the Irish born Tom Desmond (Thomas MacGreevy) who briefly dated Mulgrew's Mary, then married Faith Coleridge in order to stay in the country.
After attempting to kill her due to a brain tumor which caused him to become insanely jealous of her and Pat, Tom was briefly tempted by the innocent Poppy Lincoln (Alexandra Neil), then known as Diane Thompson Neil, who helped him deal with his brief blindness and happened to look almost exactly like his late girlfriend Teresa Donahue (also played by Ms. Neil who went to appear on practically every New York soap in the next two decades).
Desmond managed to last two years before being killed off, but the other characters were introduced and written out extremely fast.
Production Changes
Several things occurred behind the camera as well during the late 1970s to create a long, 10-year demise of the series.
In 1979, Labine and Mayer sold "Ryan's Hope" to ABC due to skyrocketing production costs. The storylines following the selling to ABC took a turn for the surreal.
One of these included a take on King Kong in which a gorilla kidnapped Delia Reid Coleridge. Another included a search for lost Egyptian mummy Maatkare Hatchepsut.
There were take-offs of "Jaws", "Manhattan", "The Godfather" and "The French Lieutenant's Woman". These were not the type of plots the show had previously been known for.
However, subsequent interviews with the headwriter Claire Labine reveal that the network was not the driving force behind the surrealism.
According to Labine, "Everyone always cites Prince Albert the ape story as a mistake. But I'd do that again. I loved those scenes. It was a story about alienation."
Just as the "King Kong"-style plot captured Labine's imagination, so was the "Raiders of the Lost Ark"-inspired plot concerning a queen mummy inspired by Labine's vacation in Egypt at the time.
However, none of them were considered plausible; "the Raiders story... appears neither comfortable nor realistic," not told within a soap's context of real life, just as the "King Kong" and "Jaws" plots "were universally criticized."
At the beginning of 1982, ABC fired Labine and Mayer and replaced them with Mary Munisteri.
Final Years\Cancellation
Broadcast History
During Munisteri's tenure as head writer, the focus began to move to the newly arrived wealthy Kirkland clan, which was headed by Hollis Kirkland III (Peter Haskell). It soon turned out that he was the father of Rae Woodard's daughter, Kimberly Harris (Kelli Maroney).
As more and more Kirklands began to show up (including Christine Jones as Hollis' wife Catsy and Mary Page Keller and Ariane Munker as his daughter Amanda), less attention was paid to the Ryans and Coleridges. Various cast members at this time dubbed the show Kirkland's Hope.
Due to falling ratings, Labine and Mayer were asked back at the beginning of 1983. In addition, at the same time, original cast members Malcolm Groome and Ilene Kristen returned to their roles as Pat Ryan and Delia Reid.
In the spring, Kate Mulgrew briefly returned to the role of Mary Ryan when the character was brought back as a ghost who communicates with her widowed beloved Jack and, while professing that she still loves him, urges him to move on with his life.
Then, in the summer, classic film actress Gloria DeHaven was hired to play the role of Bess Shelby, a middle-aged woman living out a sad existence in a Washington trailer park until she realizes her long-lost daughter is model Jillian Coleridge.
Hungry for money, her teenage daughter Maggie (Cali Timmins) takes the first bus to New York to find Jillian, eventually causing Bess to head east as well. The show's ratings rose slightly with these developments; however, it was not enough.
At the end of 1983, Labine & Mayer were let go from the show again and replaced with "General Hospital" scribe Pat Falken Smith (with James E. Reilly joining as a staff writer).
Smith (along with executive producer Joseph Hardy) once again shifted the focus from the Ryan and Coleridge families.
However, sidelining the core families simply did not seem enough and numerous fan favorite actors, including Ilene Kristen, Louise Shaffer, and Karen Morris-Gowdy either got fired or left on their own accord during this period, although Kristen's character did return for a brief stint in 1984, albeit played by Robin Mattson.
The show's primary focus during the Hardy-Smith era was on Greenberg's Deli, with Cali Timmins' Maggie Shelby and Scott Holmes' Dave Greenberg becoming two prominent characters.
In 1985, Smith was replaced with Millee Taggart and Tom King.
"Ryan's Hope" began a shift back to its roots during this time. The show, which had been airing at 12:30 Eastern US/11:30 Central since 1977, had just been moved to the Noon Eastern US/11c time slot, beginning October 8, 1984.
It appears that many of the cast members felt as though this was a very political move by ABC.
Since the daytime drama series "Loving" took over the former 12:30/11:30c "Ryan's Hope" slot, it allowed creator Agnes Nixon to use her clout with the network (from her lucrative soaps, "All My Children" & "One Life to Live") to get "Loving" a prime slot which resulted in her new show commencing a block of back-to-back Nixon shows.
Others felt that moving the show out of the 12:30 slot spared it competition from mega-hit "The Young and the Restless" on CBS and to a lesser degree, the ailing "Search For Tomorrow" on NBC.