Jurassic World: Dominion Dominates Fandom Wikis - The Loop
Play Sound
This page does not adhere to the

layout guide

.

Please help the ABC Wiki by editing this page to be conform the set layout guidelines.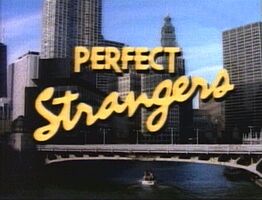 Perfect Strangers is an ABC network sitcom, created by Dale McRaven, starring Mark Linn-Baker and Bronson Pinchot which premiered on March 25, 1986.
The show originally aired on Tuesdays for the short six-episode first season in the spring of 1986.
In the fall of 1986, it moved to Wednesdays in prime time in the fall and remained on Wednesdays until March 1988, when it was moved to Fridays. It also found its niche there as the anchor for ABC's original TGIF Friday-night lineup, though it aired on Saturdays for a short time in 1992.
The show ended on August 6, 1993 after 8 seasons and 150 episodes. It also spawned a spin-off series, "Family Matters" which aired from 1989 to 1998.
Plot
"Perfect Strangers" chronicled the relationship of Larry Appleton (Mark Linn-Baker) and his distant cousin Balki Bartokomous (Bronson Pinchot).
Larry, a Wisconsin native from a large family has just moved into his first apartment in Chicago, Illinois and is savoring his first taste of privacy when Balki, a hitherto-unknown cousin from a Mediterranean island, Mypos, arrives intending to move in with him.
Balki (who was a shepherd on Mypos) interprets what little he knows about the United States by relying on his own (often out-of-context) recollections of American pop culture ("America: Land of my dreams and home of the Whopper").
After initially gently rebuffing his cousin's request to stay at his apartment, Larry decides to take Balki under his wing and teach him about American life. However, the neurotic Larry frequently proves to be as inept as Balki, if not more so, and often gets the pair into situations that only Balki can set right.
Cast
Main Cast
Bronson Pinchot as Balki Bartokomous
Mark Linn-Baker as Larry Appleton
Melanie Wilson as Jennifer Lyons (seasons 2-8)
Rebeca Arthur as Mary Anne Spencer (seasons 2-8)
Belita Moreno as Edwina Twinkacetti (seasons 1-2)\Lydia Markham (seasons 3-7)
Ernie Sabella as Donald Twinkacetti (seasons 1-2)
Lise Cutter as Susan Campbell (seasons 1-2)
Sam Anderson as Sam Gorpley (seasons 3-7)
Recurring Cast
Jo Marie Payton as Harriette Winslow (seasons 3-4)
F.J. O'Neil as Mr. Wainwright (seasons 3-7)
Eugene Roche as Harry Burns (season 3)
Ratings
The ratings for "Perfect Strangers" remained steady throughout its long run, usually ranking among Nielsen's top 40 programs for its first six seasons. It was never a massive hit, but consistently in a comfortable spot in the ratings, and it usually won its time slot on Friday nights.
By the fall of 1991, ABC had been reaping the rewards of the successful TGIF and wanted to capitalize on the preteen-and-younger demographic for the lineup.
An industry insider reported that ABC was looking for a reason to cancel "Perfect Strangers" because it was becoming too costly to produce and was considered an aging program that did not fit into the new TGIF target demographic.
In late January 1992, the network rolled out plans to launch a similar family-friendly comedy block for Saturday, also helmed by TGIF creator Jim Janicek; it was announced that the show would move from TGIF to join this new lineup to help it take off.
On February 1, 1992, "Perfect Strangers" began airing in the 9:00 p.m. slot called "I Love Saturday Night", the new TGIF sister lineup (which included "Growing Pains", "Who's The Boss?" and "Capitol Critters"). However, the series experienced a drastic decline in ratings. It dropped to #65 for the remainder of the season.
In July of 1992, ABC moved "Perfect Strangers" back to Fridays at 9:30 p.m. ET to fill the timeslot with reruns until the new TGIF season began; the reruns that were aired won their timeslot as they had before.
In its six-episode final season, which was filmed during the summer of 1992 but broadcast from July 9 to August 6, 1993, it was rated in the top 20 with its series finale attracting 15 million households and rated #11 for the week of August 1, 1993.
The average Nielsen ratings for the entire run of eight seasons was #27. For the abbreviated eighth season, "Perfect Strangers" once again aired Fridays at 9:30/8:30c.