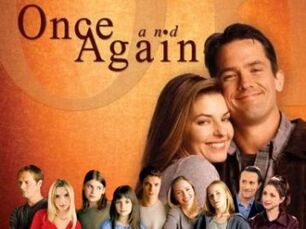 Once and Again is an ABC network drama series created by Marshall Herskovitz and Edward Zwick. The show first premiered on September 21, 1999.
One of the unique aspects of "Once and Again" was the "interview" sequences filmed in black and white and interspersed throughout each episode where the characters would reveal their innermost thoughts and memories to the camera.
On April 15, 2002, "Once and Again" ended after three seasons and 63 episodes.
Plot
Set in Deerfield, Illinois, the show focused on Lily Manning (Sela Ward), a 40-something suburban soccer mother with two daughters: 14-year-old Grace (Julia Whelan) & 9-year-old Zoe (Meredith Deane), recently separted from her husband, Jake (Jeffrey Nordling).
For support, Lily turns to her more free-spirited younger sister, Judy (Marin Hinkle), with whom she works at their bookstore called My Sister's Bookstore (renamed "Booklovers" later in the series).
In the series' pilot episode, Lily's life changes when she meets Rick Sammler (Billy Campbell) in the principal's office of her eldest daughter's school, Upton Sinclair High School.
Rick is a single father of two: 16-year-old son Eli (Shane West) & 12-year-old daughter Jessie (Evan Rachel Wood) and the co-head of an architectural firm, Sammler/Cassili Associates who has been divorced from his uptight ex-wife Karen (Susanna Thompson) for three years.
Immediately, Lily and Rick share a mutual attraction and begin dating, but their budding relationship causes problems in both of their respective families. In addition to their relationship, the show also focused to a lesser degree on their exes, Jake & Karen and their own struggles to move on in a post-divorce environment.
Cast
Main Cast
Sela Ward as Lily Manning
Billy Campbell as Rick Sammler
Susanna Thompson as Karen Sammler
Shane West as Eli Sammler
Julia Whelan as Grace Manning
Jeffrey Nordling as Jake Manning
Evan Rachel Wood as Jesse Sammler
Meredith Deane as Zoe Manning
Todd Field as David Cassilli
Marin Hinkle as Judy Brooks
Ever Carradine as Tiffany Porter (season 2, episodes 36-44 & 3rd season; recurring previously)
Jennifer Crystal Foley as Christie Parker (season 2)
Steven Weber as Samuel Blue (season 3)
Recurring Cast
Kimberly McCullough as Jennifer
Kelly Coffield as Naomi Porter
James Eckhouse as Lloyd Lloyd
Paul Mazursky as Phil Brooks
Bonnie Bartlett as Barbara Brooks
Mark Feuerstein as Leo Fisher
Alexandra Holden as Cassidy
Patrick Dempsey as Aaron Brooks
Audrey Marie Anderson as Carla Aldrich
Mark Valley as Will Gluck
D. B. Sweeney as Graham Rympalski
Marco Gould as Spencer Lewicki
Eric Stoltz as August Dimitri
Paul Dooley as Les Creswell
Mischa Barton as Katie Singer
Christina Chang as Amanda
Accolades
For her role of Lily Manning on the show, Sela Ward won an Emmy Award for "Outstanding Actress-Drama Series" and a Golden Globe Award for "Best Actress-Drama" in 2000.
Community content is available under
CC-BY-SA
unless otherwise noted.