Jurassic World: Dominion Dominates Fandom Wikis - The Loop
Play Sound
This page does not adhere to the

layout guide

.

Please help the ABC Wiki by editing this page to be conform the set layout guidelines.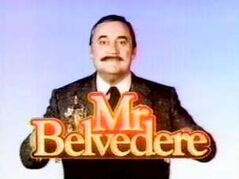 Mr. Belvedere is an ABC network sitcom series developed by Frank Dungan & Jeff Stein, starring Christopher Hewitt in the title role.
It is based on the Lynn Aloysius Belvedere character created by Gwen Davenport for her 1947 novel "Belvedere" (which was later adapted into the 1948 film "Sitting Pretty").
The show aired from March 15, 1985 to July 8, 1990, lasting for six seasons & 117 episodes.
Plot
The series centered on the adventures of English housekeeper Lynn Belvedere who works for an American family, the Owens.
Cast
Main Cast
Christopher Hewett as Mr. Lynn Belvedere
Ilene Graff as Marsha Cameron Owens
Rob Stone as Kevin Owens
Tracy Wells as Heather Owens
Brice Beckham as Wesley T. Owens
Bob Uecker as George Owens
Recurring Cast
Casey Ellison as Miles Knobnoster
Michele Matheson as Angela Shostakovich
Raleigh Bond as Burt Hammond
Jack Dodson as Carl Butlam
Winifred Freedman as Wendy
Robert Goulet as himself
Norman Bartold as Skip Hollings
Willie Garson as Carl
Patti Yasutake (or as Maggie Han in some episodes) as Tami
Laura Mooney as Marjorie
Production
Development
The character of Lynn Belvedere was originally created by Gwen Leys Davenport in her 1947 novel, "Belvedere".
The following year, the title character was portrayed by Clifton Webb in the film "Sitting Pretty" which told the story of an arrogant genius who answers an employment ad for a babysitter for three bratty kids. He accepts such employment because he is secretly writing a novel about a community filled with gossips and busybodies.
Webb's performance in the film earned him an Academy Award nomination for Best Actor, and he reprised the role in two more movies, "Mr. Belvedere Goes to College" (in 1949) and "Mr. Belvedere Rings the Bell (in 1951).
As early as the 1950s, attempts were made to adapt the character to television.
Three pilots for a proposed series based on the Belvedere character were made during the 1950s and 1960s; a 1956 attempt starring Reginald Gardiner, a 1959 effort with Hans Conried and a 1965 version starring Victor Buono in the title role.
However, all those efforts were unsuccessful until 1985, when ABC picked up "Mr. Belvedere" to series to serve as a mid-season replacement, with British actor Christopher Hewett playing the role of Lynn Belvedere.
Pre-production
The series' co-creators and executive producers, Frank Dungan and Jeff Stein, pitched the series as "a very elegant, very British sophisticate hired to restore order to a chaotic household in a Pittsburgh suburb."
The show eventually developed with an upper-middle-class family in suburban Beaver Falls, Pennsylvania.
According to Dungan and Stein, Pittsburgh was chosen as the show's setting because "It was either Pittsburgh or Paris and Paris doesn't have the Penguins... we wanted someplace with seasons and sporting activity... A city kinda going through a resurgence... with character and traditions that is moving into the '80s, a blue collar community that is moving into the up and coming, yet with the traditional spirit of the country. From everything we've read, Pittsburgh is moving into high tech."
Weeks after choosing Pittsburgh, the city was named by Rand-McNally as the most livable American city, "national publicity" that the producers promised to use.
Both Dungan (who hailed from Philadelphia) and Stein (who is from Cleveland) admitted to never having been to Pittsburgh prior to developing the series, though Dungan's sister attended Carnegie Mellon University.
Stein said, "I remember for four years she talked about how Pittsburgh was changing, and about how different it was from Philadelphia." He admitted that early on, "we thought about setting the show in Cleveland, but that's too jokey" and that "we're not doing Pittsburgh jokes. We like Pittsburgh. We like the Pittsburgh Steelers. That's a classy ballclub. And we like Willie Stargell."
No scenes from the pilot nor the first season's six episodes were shot in Pennsylvania, however the producers promised if they "get picked up for fall [1985–86] we'll probably come to Pittsburgh."
The producers educated themselves on Pittsburgh locales with a promotional calendar provided by the Pittsburgh Media Group (PMG), a consortium of public officials and Western Pennsylvania media.
Dungan and Stein used it for story ideas during season one after the PMG pitched several studio groups in Los Angeles in January of 1985.
"People were impressed... the calendar has Pittsburgh scenes for each month. The Bridge of Sighs is February. The PPG Building is March. Three Rivers Stadium gets three months."
Broadcast History
March 1985–April 1985, ABC Friday 8:30–9:00
August 1985–March 1987, ABC Friday 8:30–9:00
May 1987–September 1987, ABC Friday 8:30–9:00
October 1987–January 1988, ABC Friday 9:00–9:30
January 1988–February 1988, ABC Friday 8:30–9:00
March 1988–July 1989, ABC Friday 9:00–9:30
August 1989–September 1989, ABC Friday 8:30–9:00
September 1989–December 1989, ABC Saturday 8:00–8:30
July 1990, ABC Sunday 8:30–9:00
Ratings\Cancellation
"Mr. Belvedere" did not place within Nielsen's Top 30 shows at any time during its six-season run; however it did have a relatively solid ratings base, and often won its time slot.
Its first season (in 1985) was exempt from the Nielsen ratings as it aired too few episodes before the end of April to be counted.
During its second season (1985–86), "Mr. Belvedere" ranked at #45 with a 14.8 rating. During season three (1986–87), the show fell to 51st place with a 13.7 rating.
At the end of the 1986-87 season, ABC decided to cancel the show after three seasons, but negative feedback from fans of the series led the network to reverse its decision and order a fourth season that debuted in October of 1987.
In season four (1987–88), "Mr. Belvedere" fell to 64th place and an 11.5 rating for the year. For its fifth season (1988–89), it rose to a 12.2 rating, placing it at #47 for the season.
For its sixth and final season (1989–90), the show left its longtime Friday night slot (which began its evolution into the long-running TGIF block that season) and was moved to 8:00 p.m. Eastern Time on Saturday nights. The move led to suffer a steep ratings decline, falling to a 6.3 rating.
The final episode of "Mr. Belvedere" to air before it was put on hiatus on December 30, 1989 ranked #70 out of 83 shows. ABC canceled the series for good in February 1990.
The two-part finale, which aired on July 1 and July 8, 1990, ranked #59 and #37, respectively, out of the 86 shows that aired during those weeks.
Accolades
Year
Award
Result
Category
Recipient
1985
Primetime Emmy Award
Won
Outstanding Lighting Direction (Electronic) for a Series
George Spiro Dibie
(For episode "Stranger in the Night")
1986
Young Artist Awards
Nominated
Best New Television Series – Comedy or Drama

–

Best Young Supporting Actor in a New Television Series
Brice Beckham
Won
Best Young Actress Starring in a New Television Series
Tracy Wells
1987
Nominated
Exceptional Performance by a Young Actress, Starring in a Television, Comedy or Drama Series
Tracy Wells
Exceptional Performance by a Young Actor Starring in a Television Comedy or Drama Series
Brice Beckham
1988
Nominated
Best Family Comedy Series

–

Best Young Female Superstar in Television
Tracy Wells
Best Young Male Superstar in Television
Brice Beckham
1989
Nominated
Best Young Actress Guest Starring in a Drama or Comedy Series
Laura Jacoby
(For episode "Pigskin")
Best Young Actress – Starring in a Television Comedy Series
Tracy Wells
Best Young Actor – Starring in a Television Comedy Series
Brice Beckham
Best Family Television Series

–

2004
TV Land Award
Nominated
Best Broadcast Butler
Christopher Hewett