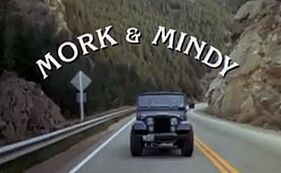 Mork & Mindy is an ABC Network sitcom and spin-off of "Happy Days" that was created by Garry Marshall, Dale McRaven, & Joe Glauberg and starred Robin Williams & Pam Dawber in the title roles.
The show premiered on September 14, 1978 and ended on May 27, 1982, lasting for 4 seasons and 91 episodes.
Plot
Set in Boulder, Colorado, the series begins when Mork arrives on Earth in an egg-shaped spacecraft. He has been assigned to observe human behavior by Orson, his mostly unseen and long-suffering superior (voiced by Ralph James). Orson has sent Mork to get him off Ork, where humor is not permitted.
Attempting to fit in, Mork dresses in an Earth suit, but he wears it backward. Landing in Boulder, Colorado, he encounters 21-year-old Mind, who is upset after an argument with her boyfriend, and offers assistance. Because of his odd garb, she mistakes him for a priest and is taken in by his willingness to listen (in fact, simply observing her behavior).
When Mindy notices his backward suit and unconventional behavior, she asks who he really is, and he innocently tells her the truth. She promises to keep his identity a secret and allows him to move into her attic. Mindy's father Fred objects to her living with a man (particularly one as bizarre as Mork), but Fred's mother-in-law Cora approves of Mork and the living arrangement.
Mindy and Cora work at Fred's music store where Cora gives violin lessons to Eugene, a 10-year-old boy who becomes Mork's friend. Also seen occasionally during the first season are Mindy's snooty old high school friend Susan and the possibly insane Exidor.
The storylines usually center on Mork's attempts to understand human behavior and American culture as Mindy helps him to adjust to life on Earth which usually ends up frustrating Mindy as Mork can only do things according to Orkan customs.
The show's second season saw an attempt to seek younger viewers and premiered a new disco arrangement of the gentle theme tune.
The characters of Fred and Cora were dropped from the regular cast. It was explained that Fred went on tour as a conductor with an orchestra, taking Cora with him. Fred and Cora made return appearances in later episodes. Recurring characters Susan and Eugene made no further appearances after season one and were never mentioned again.
New cast members were added. Among the new supporting characters were Remo and Jeanie DaVinci (Jay Thomas and Gina Hecht), a brother and sister from New York City who owned a new neighborhood deli where Mork and Mindy now spent a lot of time. Also added as regulars were their grumpy neighbor Mr. Bickley (who was seen occasionally in the first season and ironically worked as a verse writer for a greeting-card company) and Nelson Flavor, Mindy's snooty cousin who ran for city council.
The show's main focus was no longer on Mork's slapstick attempts to adjust to the new world he was in, but on the relationship between Mork & Mindy on a romantic level. Also, some of the focus was on Mork trying to find a steady-paying job.
Because of the abrupt changes to the show and time slot, the show's ratings slipped dramatically (from #3 to #27), but it was quickly moved back to its previous timeslot and efforts were made to return to the core of the series; however, the ratings did not recover.
For the third season, Jeanie, Remo & Nelson were retained as regulars with Jeanie & Remo having opened a restaurant, Nelson was no longer into politics & wore more casual clothes and Mindy's father & grandmother returned to the series
Several new supporting characters were added to the lineup. Joining were two children from the day-care center where Mork worked named Lola & Stephanie. Also added was Mindy's close friend Glenda Faye Comstock, a lovely young widow whom Nelson falls for. Wilzak lasted one season as a regular.
When these ideas failed to improve ratings, many wilder ideas were tried to attempt to capitalize on Robin Williams' comedic talents. The season ended at #49 in the ratings.
Despite the show's steady decline, Syndication agreed to a fourth season of the series, but executives wanted changes. The show began to include special guest stars this year.
In the fourth season, Mork and Mindy were married. Jonathan Winter was brought in as their child, Mearth. Because of the different Orkan physiology, Mork laid an egg, which grew and hatched into the much older Winters.
After four seasons and 95 episodes, "Mork & Mindy" was canceled in the summer of 1982. The show ended at 60th place at season's end.
Cast
Main Cast
Robin Williams as Mork
Pam Dawber as Mindy McConnell
Conrad Janis as Fred McConnell
Elizabeth Kerr as Cora Hudson
Tom Poster as Franklin Bickley
Jonathan Winters as Mearth
Jay Thomas as Remo DaVinci
Gina Hecht as Jeanie DaVinci
Jim Staahl as Nelson Flavor
Ralph James as Orson
Recurring Characters
Morgan Fairchild as Susan Taylor (Season 1)
Robert Donner as Exidor
Foster Brooks as Miles Sternhagen
Crissy Wilzak as Glenna Faye Comstock (Season 3)
Bill Kirchenbauer as Todd "TNT" Taylor
Shelley Fabares as Cathy McConnell (Season 2-4)
Amy Tenowich as Lola (Season 3)
Stephanie Kayano as Stephanie (Season 3)
Corey Feldman as Billy (Season 3)
Jeffrey Jacquet as Eugene (Season 1)
Logan Ramsey as Arnold Wanker (Season 1)
Accolades
During its first season, "Mork & Mindy" was nominated for two Primetime Emmy Awards: "Outstanding Comedy Series" and "Outstanding Lead Actor in a Comedy Series" for Robin Williams.
Video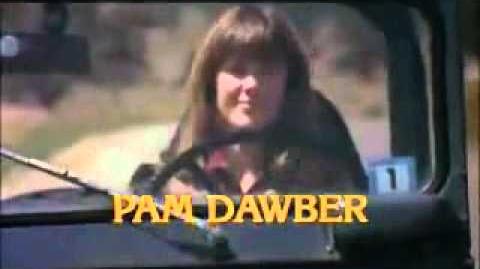 Community content is available under
CC-BY-SA
unless otherwise noted.