Jurassic World: Dominion Dominates Fandom Wikis - The Loop
Play Sound
This page does not adhere to the

layout guide

.

Please help the ABC Wiki by editing this page to be conform the set layout guidelines.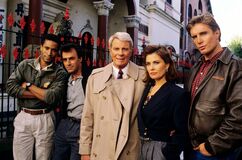 Mission: Impossible is an ABC network action series and remake of the 1966 CBS network series of the same name, created by Bruce Geller.
The show aired from October 23, 1988 to February 24, 1990, lasting for two seasons & 35 episodes. It was produced by Paramount Network Television.
Plot
The events of the series take place 15 years after the last season of the original "Mission: Impossible" series.
After his protégé and successor as leader of the top-secret Impossible Missions Force is murdered, Jim Phelps is called out of retirement and asked to form a new IMF team and track down the assassin.
Cast
Peter Graves as Jim Phelps
Thaao Penghlis as Nicholas Black
Tony Hamilton as Max Harte
Phil Morris as Grant Collier
Terry Markwell as Casey Randall
Jane Badler as Shannon Reed
Bob Johnson as Disc (voice)
Production
In 1988, the American fall television season was hampered by a writers' strike that prevented the commissioning of new scripts. Producers, anxious to provide new product for viewers, but with the prospect of a lengthy strike, went into the vaults for previously written material.
ABC decided to launch a new "Mission: Impossible" series, with a mostly new cast (except for Graves, who would return as Phelps), but using scripts from the original series, suitably updated.
In order to save even more on production costs, "Mission: Impossible" was filmed in Australia; the first season in Queensland, and the second season in Melbourne. Costs in 1988,were, some 20 percent lower in Australia compared with Hollywood.
The new "Mission: Impossible" was one of the first American commercial network programs to be filmed in Australia.
The core cast included several Australian actors, and numerous Australians (along with Australian-based American and British actors) were also cast in guest roles.
The strike eventually ended and the series was able to compose original storylines. Ultimately only a few episodes ended up being outright remakes of the original series, including the show's premiere episode.
Cancellation
Originally, "Mission: Impossible" had aired on Sundays, and was moved to Saturday evenings starting with episode 9 of the first season.
At the beginning of the second season, ABC moved the show to the Thursday 8:00 p.m. timeslot, which proved to be a disaster.
However, the ratings quickly declined after being forced to compete with "The Cosby Show" and "A Different World" on NBC.
ABC responded by moving the show back to Saturday nights to replace the sitcoms "Mr. Belvedere" and "Living Dolls" which faltered badly in their time slots.
However, the move was not a success and "Mission: Impossible" was cancelled at the end of the second season.
Broadcast History
Season
Time slot (ET)
1988–89
Sunday at 8:00 pm (Episodes 1-8)
Saturday at 8:00 pm (Episodes 9-19)
1989–90
Thursday at 8:00 pm (1989)
Saturday at 8:00 pm (1990)