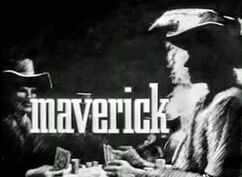 Maverick is an ABC network Western comedy series created by Roy Huggins which aired from September 22, 1957 to July 8, 1962, lasting for five seasons & 124 episodes.
A spin-off series, "Bret Maverick" (starring James Garner) aired on NBC for one season from December 1, 1981 to May 4, 1982.
Plot
The series centered on the Maverick boys (Bret, Bart, Beau & Brent), a clan of well-dressed dandies & gamblers who make money playing cards and migrate from town to town searching for a good game.
Cast
James Garner as James Garner
Jack Kelly as Bart Maverick
Roger Moore as Beau Maverick
Robert Colbert as Brent Maverick
Production
Initially, James Garner was originally supposed to be the only Maverick, but the studio eventually hired Jack Kelly to play brother Bart, starting with the eighth episode. The producers had realized that it took over a week to shoot a single episode, meaning that at some point, the studio would run out of finished episodes to televise during the season, so Kelly was hired to rotate with Garner as the series lead, using two separate crews (while occasionally appearing together).
In Bart's first episode, "Hostage!", in order to engender audience sympathy for the new character, the script called for him to be tied up and beaten by an evil police officer.
According to series creator Roy Huggins in his Archive of American Television interview, the two brothers were purposely written to be virtual clones, with no apparent differences inherent in the scripts whatsoever; this included being traveling poker players, loving money, professing to be cowards (despite voluminous evidence to the contrary), spouting enigmatic words of advice their "Pappy" passed down to them, and carrying a $1,000 bill pinned to the inside of a coat for emergency purposes.
However, there was one distinct—but accidental—difference between the two. Garner's episodes tended to be more comedic due to his obvious talent in that area while Kelly's were inclined to be more dramatic.
Huggins noted in the aforementioned Archive of American Television interview that Kelly, while funnier than Garner "off camera", dropped a funny line while shooting a scene "like a load of coal." Garner, at 6 feet 3 inches (1.91 m), was also two inches (5 cm) taller than the obviously more slender Kelly, leading a character in one episode ("Seed of Deception") to refer to Garner as "the big one" and the 6'1" Kelly as "the little one."
To get disappointed viewers used to the idea of a second Maverick, Garner filmed a series of brief vignettes that aired at the beginning of the Kelly-only episodes, where he would introduce the evening's story.
In order to foster as much parity as possible, Kelly did the same in a Garner-only episode, "Black Fire", by appearing in the opening vignette to introduce the story and narrating the remainder of the episode.
Roy Huggins observed in his videotaped Archive of American Television interview that the ratings for Kelly's episodes were always slightly higher during the first two seasons than Garner's.
Huggins mentioned that he believed that this was a reflection of how well the audience liked Garner's episodes and the consequent word of mouth, so that viewers would be at their sets for the following episode, which would usually feature Kelly instead.
The rating jumps for Kelly's episodes were tiny enough that they fell within the margin of error, according to Huggins in this interview, but he maintains that they were remarkable in that they were consistent.
While Kelly developed a following among the show's female fans, not everyone was happy with his addition to the cast.
The chairman of Kaiser Aluminum, the series' main sponsor at the time, became so perturbed when Kelly was brought in (saying, "I paid for red apples and I get green apples!") that ABC had to make a new deal that cost the network a small fortune.
The episodes featuring both Garner and Kelly were audience favorites, with critics frequently citing the chemistry between the Maverick brothers. Bret and Bart often found themselves competing for women or money, or working together in some elaborate scheme to swindle someone who had just robbed one of them.
Though it was never said explicitly, Bret appears to be the older, stating once in response to someone mentioning lightning striking twice in the same place, "That's just what my Pappy said when he looked in my brother Bart's crib."
In real life, Kelly was seven months older than Garner. Kelly wound up being the only Maverick to appear in all five seasons of the series in the wake of Garner's contentious departure after the third season to successfully pursue a film career.
Even though he was very popular, James Garner quit over a contract dispute with the studio after the show's third year in order to graduate to a much anticipated movie career, and was replaced by Roger Moore as cousin Beau, the nephew of Beau "Pappy" Maverick.
It is unclear if Beau was supposed to be the son of Bret and Bart's uncle Bentley. Sean Connery turned down the role, but accepted a free trip to America; the following decade, Moore would replace Connery as James Bond in the 007 film series based upon Ian Fleming's spy novels.
Beau's first appearance was in the season four opener, "The Bundle From Britain", in which he returns from an extended stay in England to meet cousin Bart. Moore had earlier played a completely different role in the episode "The Rivals", a drawing room comedy episode with Garner in which Moore's character switched identities with Bret.
Beau's amusingly self-described "slight English accent" was explained by his having spent the last few years in England. Moore was exactly the same age as Kelly and brought a flair for light comedy and a physical similarity to Garner fitting the show—Moore even looked like the profile drawing (apparently based on Garner) of the card player at the beginning of each episode.
Moore noted in his autobiography that the producers told him he was not being brought in to replace Garner.
However, when he got to wardrobe, all of his costumes had the name "Jim Garner" scratched out on the tags. Moore also mentioned in the book that he, Garner, Kelly, and their wives would regularly gather at the Kelly home for what they called "poker school".
There was also a dispute between the cast and producers during this time over the long hours they were putting in each day.
The producers placed a time clock in the makeup department and required the actors to punch in. Moore brought his own makeup, and refused to do so. Moore wrote in his book that Kelly was "similarly minded, and one day took the time clock and used it as a football."
Moore had already played Maverick dialogue written for Garner in his earlier series, The Alaskans. The studio had a policy of recycling scripts through their various television series to save money on writers, changing as little dialogue as possible, usually only names and locations. Recycled scripts were often credited to "W. Hermanos" (Spanish for W. Brothers).
One of Moore's episodes, "Bolt From the Blue," was written and directed by Robert Altman.
Moore quit due to what he felt was a declining script quality (without having to resort to legal measures as Garner had); he insisted that if he had gotten the level of writing Garner had enjoyed during the first two years of the show's run, he would have stayed.
As the show's ratings continued to slide following the departure of James Garner and addition of Roger Moore, strapping Garner lookalike Robert Colbert was cast as yet another brother, Brent Maverick, duplicating Garner's most frequent costume exactly. Colbert had appeared on the show previously as Cherokee Dan Evans in the season four episode "Hadley's Hunters," wearing an identical black hat on the back of his head just as Garner had.
Aware of his physical similarity to Garner and wary of the comparisons that would inevitably result, Colbert famously pleaded with Warner not to cast him, saying, "Put me in a dress and call me Brenda, but don't do this to me!"
The studio had intended for Kelly, Moore, and Colbert to be on the series at the same time, and numerous readily available online publicity photos survive of Bart, Beau, and Brent posing together, but Moore had already left the show when the first of Colbert's two episodes aired in March of 1961.
Colbert was introduced as Brent in the season four episode "The Forbidden City." Kelly made what amounted to an extended cameo appearance in the episode. He would appear again two episodes later by himself in "Benefit of the Doubt," (featuring Ellen Burstyn and Slim Pickens).
For the show's fifth season in 1961-1962, the studio dropped Colbert without notifying him; they simply did not call him back. New Kelly episodes alternated with Garner reruns until the series was cancelled. The studio reversed the actors' billing at the beginning of the show for that last season, with Kelly ahead of Garner.
Community content is available under
CC-BY-SA
unless otherwise noted.