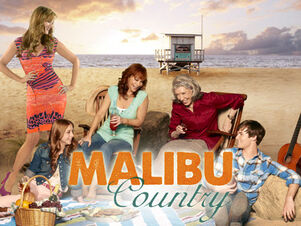 Malibu Country is an ABC network sitcom series created by David A. Stewart, starring Reba McEntire in the lead roll (making it her return to series TV since her WB network sitcom, "Reba").
The show aired from November 2, 2012 to March 22, 2013, lasting for one season & 18 episodes.
Plot
After discovering that her husband has been cheating on her, Reba MacKenzie and her family move from Nashville, Tennessee, to Malibu, California, in an attempt to restart her music career and start a new chapter in their lives.
Cast
Main Cast
Reba McEntire as Reba MacKenzie
Lily Tomlin as Lillie Mae MacKenzie
Sara Rue as Kim Sallinger
Justin Prentice as Cash Gallagher
Juliette Angelo as June Gallagher
Jai Rodriguez as Geoffrey
Recurring Cast
Jeffrey Nordling as Bobby Gallagher
Hudson Thames as Sage
Larry Wilmore as Mr. Clark
James Patrick Stuart as Mr. Bata
Production
"Malibu Country" was originally a series in development for ABC. The pilot episode was scheduled to shoot on April 17, 2012, at ABC Studios.
Reba McEntire was selected to play Reba McKenzie, a divorced mother of two who moves to Malibu, California, to restart her music career.
It was announced on February 23, 2012, that Lily Tomlin would join the series, playing the role of McEntire's character's mother, Lillie Mae.
On March 1, 2012, Sara Rue was added to the cast. She portrays Kim, a neighbor to Reba and Lillie, who is a very upbeat share-too-much, hug-too-freely trophy wife and neighbor with a teenage stepson who may or may not be gay.
On March 8, 2012, Justin Prentice and Juliette Angelo were cast as Reba's teenage son and daughter, Cash and June respectively.
On March 28, 2012, Jai Rodriguez was cast as Geoffrey, a record label assistant in town whom Reba contacts to restart her music career.
On May 11, 2012, ABC placed a series order for "Malibu County" and it premiered on Friday, November 2, 2012 at 8:30 p.m., following the season premiere of "Last Man Standing."
On November 12, 2012, ABC picked up an additional three scripts for the show. It was announced on November 28, 2012, that ABC increased the episode order for season one from thirteen to eighteen episodes.
Reception
"Malibu County" has received mixed to negative reviews from critics. It currently has a score of 41 out of 100 on Metacritic, citing mixed or average reviews.
Ratings
The series premiere of "Malibu County" received 9.13 million viewers, and a 2.3 in the coveted 18–49 rating share, up 1 million viewers from its lead in, the season premiere of "Last Man Standing".
The premiere scored ABC's highest numbers in the half hour in almost five years.
As of November 27, 2012, the first season episode order has been expanded from 13 to 18 episodes, with ABC also announcing that "Malibu Country" is the highest-rated freshman comedy on television in the 2012 fall season with an average of 8.7 million viewers per episode.
Community content is available under
CC-BY-SA
unless otherwise noted.