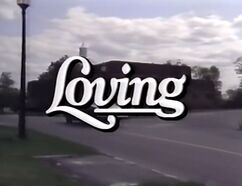 Loving was an ABC network soap opera series created by Agnes Nixon and Douglas Marland.
The show aired from June 26, 1983 to November 10, 1995, lasting for 3,169 episodes. It was produced by Dramatic Creations.
Plot
Set in the fictional town of Corinth, Pennsylvania, the series centered around the lives of the wealthy Alden family.
Production
With the established and successful ABC daytime soap operas veering into a new trend of youth orientation and storylines with more action and adventure, soap creator Agnes Nixon & actor/writer Douglas Marland sought to create a new serial that would be introduced as a traditional, classic soap opera for the 1980s and romance would be the show's key centerpiece.
The show's original working title was "Love Without End." By early 1983, the new creation was fully developed (as "Loving") with a cast set for both a primetime premiere and a weekday run.
"Loving" premiered on June 26, 1983 as a two-hour primetime movie; it starred much of the original cast and featured film actors Lloyd Bridges and Geraldine Page.
Set in the fictional town of Corinth, Pennsylvania, the early years of the show revolved around the blue-collar Donovans and the blue-blood Aldens. Major social issues such as incest, alcoholism, and post-traumatic stress syndrome of Vietnam veterans were covered.
Marland and Nixon left the series after a few years and in spite of ABC's bumping down "Ryan's Hope" in order to give "Loving" a choice timeslot, and cast additions of such popular "All My Children" stars as Debbi Morgan and Jean LeClerc, the ratings remained low throughout the show's run.
The show suffered from a constant revolving door of writers and producers, leading to questionable story moments such as a heroine's addiction to cough syrup and one character's selling his soul to the Devil.
Circumstances became so desperate in the early 1990s that, to keep the show afloat, ABC assigned its own programming suits, network executive Haidee Granger and later, Vice President of Daytime Programming JoAnn Emmerich, to serve as executive producers.
Despite its frequently subpar ratings, "Loving" celebrated its 10th Anniversary on June 26, 1993.
The show's long-running characters included Ava Rescott (played by Patty Lotz, 1983–1984; Roya Megnot, 1984–1988, 1990 as a temporary replacement; Lisa Peluso, 1988–1995), a schemer whose adventures ranged from stuffing a pillow in her dress to simulate pregnancy to being kidnapped at Universal Studios to being menaced by her lover's identical twin, Gilbert. Other longtime favorites included Stacey Donovan Forbes (portrayed by Lauren-Marie Taylor, the only continuously running original cast member), who was killed off via a poisoned powder puff in summer 1995; boarding house owner Kate Rescott (Nada Rowand), mother of Ava and Carly, whose tenants often included teen and young adult characters in trouble, or in numerous romantic entanglements; and Gwyneth Alden (played for the majority of the run by Christine Tudor), the long-suffering matriarch who never stopped loving her roguish ex, Clay, or her mentally disturbed children, Trisha and Curtis.
In early 1995, ABC Daytime planned to cancel "Loving" and asked new head writers James Harmon Brown & Barbara Esensten to find a way to salvage a few components of the series.
The writers embarked upon the show's last big storyline, and what many considered one of the show's best storylines, the Corinth serial killer.
Stacey, Clay, Curtis, Cabot, Isabelle & Jeremy lost their lives, culminating in the revelation that an insane Gwyn had murdered most of her friends and family in a bid to "make their pain go away." Then, Gwyn injected herself with poison before the police could arrest her.
The show's characters, Ally, Alex, Angie, Buck, Frankie, Jacob, Steffi, Jocelyn, Richard, Tony, Danny & Tess moved to New York City's SoHo District and began a new series "The City" (which would run until March 1997).
Broadcast History
Community content is available under
CC-BY-SA
unless otherwise noted.