This page does not adhere to the

layout guide

.

Please help the ABC Wiki by editing this page to be conform the set layout guidelines.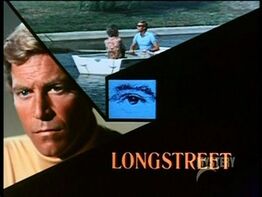 Longstreet is an ABC network crime drama series starring James Franciscus in the lead role.
The show aired from September 16, 1971 to March 2, 1972, lasting for one season and 23 episodes.
A 90-minute pilot movie of the same name aired prior to the debut of the series as an "[[ABC Movie of the Week]]".
Plot
After insurance investigator Mike Longstreet was blinded in an explosion which killed his wife, he becomes a detective with the help of his guide dog, Pax and Braille teacher Nikki Bell.
Cast
James Franciscus as Mike Longstreet
Marlyn Mason as Nikki Bell (22 episodes)
Peter Mark Richman as Duke Paige (20 episodes)
Ann Doran as Mrs. Kingston (17 episodes)
Bruce Lee as Li Tsung (4 episodes)
[[Category:ABC Shows]]