This page does not adhere to the

layout guide

.

Please help the ABC Wiki by editing this page to be conform the set layout guidelines.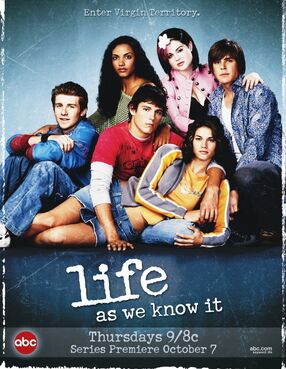 Life As We Know It is an ABC network teen drama TV series based on the 2004 novel "Doing It" by British writer Melvin Burgess that was created by Gabe Sachs & Jeff Judah.
The show premiered on October 7, 2004 and starred Sean Faris, Jon Foster, Chris Lowell, Missy Peregrym, Kelly Osborne, Jessica Lucas, Lisa Darr, D.B. Sweeney and Marguerite Moreau.
Although the series received critical acclaim, it was cancelled on January 20, 2005 after one season & 13 episodes, leaving 2 episodes (which were later featured on the show's DVD set) unaired on TV.
Plot
Set in Seattle, Washington, the show focused on three teenage high school boys: star hockey player, Dino who had an ueasy relationship with his girlfriend, Jackie Bradford and his mother Annie was having an affair with his hockey coach; Ben Connor, who was having an affair with a teacher, Monica Young; and Jonathan Fields, who was dating Deborah Tynan, who is British.
The show broke the fourth wall by having characters step out of the scene (which proceeded behind them in slow motion) and directly address to the camera.
Cast
Main Cast
Sean Faris as Dino Whitman
Jon Foster as Ben Conner
Chris Lowell as Jonathan Fields
Missy Peregrym as Jackie Bradford
Kelly Osbourne as Deborah Tynan
D.B. Sweeney as Michael Whitman
Lisa Darr as Annie Whitman
Marguerite Moreau as Ms. Monica Young
Jessica Lucas as Sue Miller
Recurring Cast
Evan Smith as Max Whitman
Sarah Strange as Mia Tynan
Martin Cummins as Coach Dave Scott
Jessica Harmon as Zoe
Community content is available under
CC-BY-SA
unless otherwise noted.