This page does not adhere to the

layout guide

.

Please help the ABC Wiki by editing this page to be conform the set layout guidelines.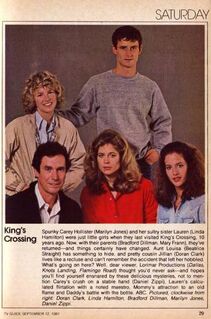 King's Crossing is an ABC network evening soap opera which aired from January 16 to February 27, 1982, lasting for one season & 7 episodes.
Plot
The series centered on the Hollister family as they relocated to King's Crossing, California where recovering alcoholic Paul Hollister was looking for a fresh start with his family & career working as an English professor at the town's college.
Cast
Michael Zaslow as Jonathan Hadary
Stephanie Braxton as Carol Hadary
Donegan Smith as Dr. Bloom
Bradford Dillman as Paul Hollister
Mary Frann as Nan Hollister
Linda Hamilton as Lauren Hollister
Marilyn Jones as Carey Hollister
Daniel Zippi as Billy McCall
Doran Clark as Jillian Beauchamp
Beatrice Straight as Louisa Beauchamp
Dorothy Meyer as Willa Bristol
Production
The show's roots can be found in the 1980 drama series, "Secrets of Midland Heights" which aired on CBS for eight episodes.
After that show was canceled, Lorimar Productions announced it would return in a retooled format; "King's Crossing" was a completely different show, but employed several actors (including Doran Clark, Linda Hamilton, Marilyn Jones, and Daniel Zippi) who had also appeared in the earlier drama.