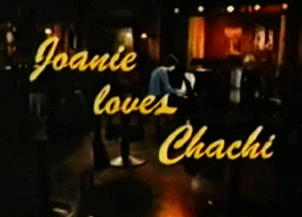 Joanie Loves Chachi is an ABC network sitcom and spin-off of "Happy Days" created by Lowell Ganz, Mark Rothman and Garry Marshall, starring Erin Moran & Scott Baio as the title characters of Joanie Cunningham and Chachi Arcola respectively.
The show aired from March 23, 1982 to May 24, 1983, lasting for two seasons & 17 episodes.
Plot
The series centered on Joanie Cunningham and Chachi Arcola as they moved to Chicago to try to make it on their own as they pursue a music career with their rock band.
Cast
Erin Moran as Joannie Cunningham
Scott Baio as Chachi Arcola
Al Molinaro as Al Delvecchio
Ellen Travolta as Louisa Delvecchio
Art Metrano as Rico Mastorelli
Robert Pierce as Bingo Pierce
Derrel Maury as Mario Mastorelli
Winifred Freedman as Annette Mastorelli
Ratings
At first, "Joanie Loves Chachi" attracted high ratings for the first few episodes, ranking at #17, but by its second season, the ratings plummeted after it moved to Thursday nights.
On May 24, 1983, the show was cancelled and the characters were brought back to "Happy Days" for their final season. ABC determined that the show was losing too much of its lead-in, suggesting low appeal if the show were moved.
Community content is available under
CC-BY-SA
unless otherwise noted.