Jurassic World: Dominion Dominates Fandom Wikis - The Loop
Play Sound
This page requires editing to meet

quality standards

.

Please remove broken links and references and rewrite copied content to be original.
This page does not adhere to the

layout guide

.

Please help the ABC Wiki by editing this page to be conform the set layout guidelines.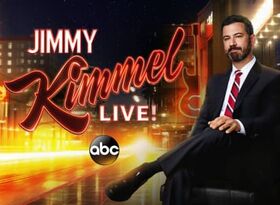 Jimmy Kimmel Live! is an ABC network late-night talk show created and hosted by Jimmy Kimmel which has aired since January 26, 2003.
Production
History
"Jimmy Kimmel Live!" began airing on January 26, 2003, replacing "Politically Incorrect". ABC had originally intended to give Jon Stewart his own late-night program following Nightline, but Kimmel was chosen instead.
The show, stunted early on by an ABC affiliate body which was fulfilling existing syndication contracts for post-local news sitcom and entertainment newsmagazines and thus delaying the show (and making the "Live!" title somewhat of a misnomer), started behind the ratings of Late Show with David Letterman, "The Tonight Show with Jay Leno", "Late Night with Conan O'Brien" and "The Late Late Show with Craig Kilborn", but gradually moved up in the ratings into 2004, and became a fairly strong competitor, capturing about half the audience of The Tonight Show with Jay Leno.
Jimmy Kimmel Live! is ABC's first attempt at a traditional late-night talk show since its attempt to revive The Dick Cavett Show in the 1980s.
ABC had earlier attempted to directly compete with NBC's "Tonight Show Starring Johnny Carson" in the 1960s and 1970s with The Les Crane Show, which was more of a serious interview program than light entertainment, "The Joey Bishop Show "(1967–1969), featuring Rat Pack member Joey Bishop with Regis Philbin as sidekick, the original "Dick Cavett Show" (1969–1975) with Dick Cavett in a show that featured a mixture of cultural, popular entertainment and intellectual figures and was considered more highbrow than Carson and even a short-lived revival of NBC's "Tonight Starring Jack Paar" under the name "Jack Paar Tonite" which alternated weeks with Cavett in 1973.
While Cavett was the longest-lasting and best remembered of these attempts, none seriously threatened the domination of the Tonight Show.
ABC's long-running "Nightline" series which premiered in 1979 during the Iran hostage crisis and continued at 11:30 until 2013 was able to compete with the "Tonight Show", however, particularly on days when there were major news events or ongoing crises.
The growth and development of cable news and the emergence of the internet and the 24-hour news cycle eroded "Nightline"'s originally unique, and later preeminent position as a source for late evening national and international news and its value as a counterprogramming against "Tonight" and other late-night talk shows. As a result, in 2012, the show switched places on ABC's schedule with Jimmy Kimmel Live!.
At the start of 2019, when Hearst Television's newest affiliation agreement for their ABC affiliates kicked in and forced them to give up their ability to delay the program for extended local newscasts or syndicated programming, the show now airs across the network on most stations at 11:35 p.m. ET/10:35 p.m. CT.
Despite its name, the show has not regularly aired live since 2004, when censors were unable to properly bleep censor a barrage of swearing from actor Thomas Jane; for special nights such as the Oscar show, it does air live, but with a broadcast delay of a few seconds.
Controversies
Detroit sports violence
During Game 2 of the 2004 NBA Finals in Detroit, Kimmel appeared on ABC's halftime show to make an on-air plug for that night's episode.
He suggested that if the Detroit Pistons defeated the Los Angeles Lakers, "they're gonna burn the city of Detroit down ... and it's not worth it." He was referring to the violence that erupted in Detroit after the Tigers won the 1984 World Series.
Officials at Detroit's ABC affiliate, WXYZ-TV, immediately announced that night's show would not air on the station.
Hours later, ABC officials followed suit and pulled that night's show from the entire network. Kimmel issued a tongue-in-cheek apology at first, saying that if "the Lakers win, I plan to overturn my own car." WXYZ's then-news director Andrea Parquet-Taylor rejected the apology, saying that Kimmel "tried to turn it into another bad joke."
Kimmel apologized again, saying he failed to take into account the embarrassment many Detroiters still felt about the 1984 violence. The second apology was enough for ABC to reinstate the program the following evening.
Kimmel would later broadcast a series of shows from Detroit in an effort to make amends.
"Kill the Chinese"
During the October 16, 2013 episode, Kimmel held the "Kids Table" segment to invite several 6–7-year-old children to discuss the U.S. debt problem: "We owe the Chinese a lot of money, 1.3 trillion dollars."
A boy immediately suggested to "kill everyone in China." This comment elicited some laughter from the audience and Kimmel laughed it off and commented, "That's an interesting idea." He later asked, "Should we allow the Chinese to live?" The boy stuck to his answer.
The show has drawn fire from offended Asian Americans and Chinese citizens. An online poll showed that 90% of the respondents were angered, saddened or guarded about the show.
Overseas Chinese communities and domestic Chinese citizens alike have rallied together and created a petition to the White House and a campaign on Facebook, boycotting Kimmel's decision to air the comment on his show and asking that the show be investigated for its promotion of genocide and racism against the Chinese.
The petition demanded that ABC should "cut the show and issue a formal apology."
The petitioner argued that "[t]he kids might not know any better. However, Jimmy Kimmel and ABC's management are adults. They had a choice not to air this racist program, which promotes racial hatred."
Meanwhile, not all viewers of the parody found it objectionable. Gu Xiaoming, a professor at the School of Humanities at Fudan University, believed that some were reading too much into comments from a child, and the show reflected Americans' anxiety on the debt crisis to some extent.
The clip of this segment has since been removed from Kimmel's YouTube account, but can still be seen when viewing the entire episode.
On November 7, 2013, the White House petition had drawn more than 100,000 signatures. The White House was expected to review the filing and issue some sort of public response for petitions that gather enough support to pass the 100,000 mark.
With respect to the petition, White House spokesman said, "Every petition that crosses the threshold will be reviewed by the appropriate staff and receive a response."
ABC first sent an apology letter to the 80-20 Initiative, an organization promoting equal opportunities for Asian Americans, for allowing the comment "Kill everyone in China" to air.
This letter, signed by ABC senior executives, read in part: "We would never purposefully broadcast anything to upset the Chinese community, Asian community, anyone of Chinese descent or any community at large. Our objective is to entertain."
This letter also said that ABC had removed the controversial comment from all media platforms and would remove it from future airing.
The chairman of the 80–20 Initiative, S.B. Woo, lodged the protest with ABC after he found out the segment was actually not live, and he considered this apology not a victory at all and could be more satisfactory for Asian-American communities.
During the October 28, 2013 episode of his show, Kimmel addressed this issue, stating that "I thought it was obvious that I didn't agree with that statement, but apparently it wasn't, so I just wanted to say, I'm sorry, I apologize."
On October 28, 2013, Asian Americans marched through the streets of San Francisco protesting about Kimmel's show and his supposed condoning of genocide. They gathered around ABC headquarters in New York City and demanded a more elaborate apology and that an ABC representative come receive letters of protest.
On November 1, 2013, Chinese American demonstrators, mainly from Houston, gathered outside ABC's local office building to protest the offensive skit the show aired "kill everyone in China." The crowds shouted slogans like "Shame on ABC," "Boycott ABC," and "Fire Kimmel."
However, protesters were still not satisfied with ABC's apology and organized a nationwide protest against ABC on November 9th in 27 cities, including a rally outside ABC's headquarters in Burbank.
However, the 80–20 initiative accepted ABC's November 8 apology and has said it would like to "build bridges" with ABC.
YouTube Gaming
During the August 27, 2015 episode, Kimmel made a sketch parody making fun of the YouTube Gaming platform, and the "let's play" culture in general. He received a great deal of criticism from the members of the gaming community on YouTube.
The upload of the sketch is the most disliked video on his channel. Kimmel received death threats in the video's comments section, which Kimmel made fun of with two other videos a few days later. The two reaction videos also received negative reception.
Melania Trump accent joke
In an April 2018 segment, Kimmel made a joke about First Lady Melania Trump's pronunciation of words while reading to children at an annual White House Easter celebration. The comments offended some viewers who objected to jokes about Trump's Slovenian accent.
The comments led to a Twitter feud between Kimmel and pundit Sean Hannity (Hannity called Kimmel a "despicable disgrace" and "ass clown"; Kimmel rejoined that Hannity was the "whole ass circus").
Kimmel made comments about the relationship between Hannity and President Trump. He later said: "By lampooning Sean Hannity's deference to the President, I most certainly did not intend to belittle or upset members of the gay community and to those who took offense, I apologize, I will take Sean Hannity at his word that he was genuinely offended by what I believed and still believe to be a harmless and silly aside referencing our First Lady's accent."
Kimmel said that his wife and son were the subjects of "vile" death threats as a result of his comments.