This page does not adhere to the

layout guide

.

Please help the ABC Wiki by editing this page to be conform the set layout guidelines.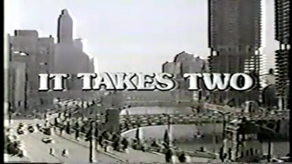 It Takes Two is an ABC network sitcom series created by Susan Harris, starring Richard Crenna & Patty Duke Astin in the lead roles.
The show aired from October 14, 1982 to April 28, 1983, lasting for one season & 22 episodes.
Susan Harris, her husband Paul Junger Witt & Tony Thomas executive produced the series, under the group's Witt/Thomas/Harris Productions company.
Plot
The series centered on couple Sam & Molly Quinn, a modern, dual career couple whose personal lives were largely impacted by their professions; Sam worked as a doctor and Molly worked as an assistant district attorney.
Cast
Richard Crenna as Dr. Sam Quinn
Patty Duke Astin as Molly Quinn
Helen Hunt as Lisa Quinn
Anthony Edwards as Andy Quinn
Billie Bird as Mama
Richard McKenzie as Dr. Walter Chaiken
Randy Lowell as Decker
Della Reese as Judge Caroline Phillips
Post-Cancellation
After "It Takes Two" was cancelled, Golden West Television, the company that provided production facilities for the shows produced by Witt/Thomas (and Harris), distributed syndicated reruns of the series (along with its sister series, "It's a Living") to local stations during the 1983-84 season.
This was the rare instance of a series that was only produced for one season being picked up for off-network, local station reruns.