This page does not adhere to the

layout guide

.

Please help the ABC Wiki by editing this page to be conform the set layout guidelines.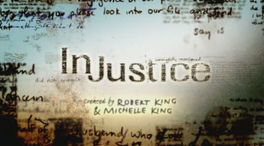 In Justice is an ABC network drama series created by Michelle King and Robert King.
The show aired as a midseason replacement from January 1 to March 31, 2006, lasting for one season & 13 episodes. It was produced by Touchstone Television and King Size Productions.
Plot
Set in the San Francisco Bay Area, the series centered on the National Justice Project (headed by wealthy lawyer David Swain), an organization that helps overturn wrongful convictions and discover who is actually responsible for the crimes committed.
Cast
Jason O'Mara as Charles Conti
Kyle MacLachlan as David Swain
Marisol Nichols as Sonya Quintano
Constance Zimmer as Brianna
Daniel Cosgrove as Jon Lemonick
Tim Guinee as Richard Rocca
Reception
On Rotten Tomatoes, "In Justice" has an approval rating of 40% based on reviews from 10 critics.
The site's consensus states: "In Justice brandishes a refreshingly righteous premise, but this derivative procedural's good intentions can't vindicate the indistinctive casting and uninspired cases.
On Metacritic the series has a score of 48% based on reviews from 16 critics, indicating "mixed or average reviews."
David Hinckley of the New York Daily News compared the show to "Without a Trace" and "Cold Case."
He wrote: "The chemistry among the leads isn't fully there, and the trail of clues, at least in the opening two episodes, relies on a lot of serendipity and improbable deductive work. But "In Justice" is a watchable show."
Linda Stasi of the New York Post said: "It's not bad. Now understand that I say this despite the fact that the producers themselves should be arrested for theft for swiping everything that wasn't nailed down to make this show."
Stasi notes the cast are "startlingly good-looking" and "the acting is quite good", she praises the writing, with some reservations about the "cheesy dialogue". She concludes "you may, in fact enjoy it a lot."
Phil Gallo of Variety called the show "A model of midseason mediocrity."
Tom Shales of the Washington Post wrote: "It's an imitation of something already being imitated here, there and everywhere."
Tim Goodman of the San Francisco Chronicle called the show "a mess" and was critical of ABC for not knowing what they wanted the show to be.