This page does not adhere to the

layout guide

.

Please help the ABC Wiki by editing this page to be conform the set layout guidelines.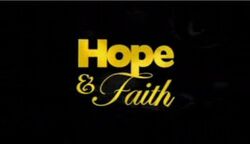 Hope & Faith is an ABC network sitcom series created & produced by Joanna Johnson. The show aired from September 23, 2003 to May 2, 2006, lasting for three seasons & 73 episodes.
Plot
The series centered on soap opera star Faith Fairfield who moves to Glen Falls, Ohio to live with her sister, Hope Shanowski after her character is killed off the show she starred on.
Cast
Faith Ford as Hope Shanowski (nee Fairfield)
Kelly Ripa as Faith Fairfield
Ted McGinley as Charlie Shanowski
Nicole Paggi as Sydney Shanowski #1 (season 1)
Megan Fox as Sydney Shanowski #2 (seasons 2-3)
Macey Cruthird as Hayley Shanowski
Paulie Litt as Justin Shanowski
Production
Josh Stamberg, Brie Larson & Slade Pearce were originally cast for the roles of Charley, Sydney and Justin Shanowski for the original pilot episode (which was taped on April 30, 2003), but they were fired & replaced due to creative differences.
The parts were recast with Ted McGinley, Nicole Paggi & Paulie Litt, and the episode was shot again on August 16, 2004.
Cancellation
On January 18, 2006, ABC announced that it was benching "Hope & Faith" for the February sweeps in order to make room for an expanded edition of "Dancing with the Stars."
The show aired its remaining episodes from March 21, 2006 on Tuesdays at 8:30 p.m. ET (which aired against FOX's "American Idol"), but in May of 2006, it was announced that "Hope & Faith" would be cancelled when ABC unveiled its fall 2006 line up.
Ratings
US Ratings
Season
Episodes
Premiere
Season finale
Viewers
(in millions)
Rank
1
2003–2004
25
September 23, 2003
May 14, 2004
8.2
#77
2
2004–2005
26
September 24, 2004
May 6, 2005
6.9
#98
3
2005–2006
22
September 30, 2005
May 2, 2006
5.8
#103
Community content is available under
CC-BY-SA
unless otherwise noted.