This page does not adhere to the

layout guide

.

Please help the ABC Wiki by editing this page to be conform the set layout guidelines.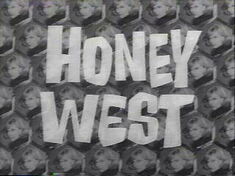 Honey West is an ABC network crime drama series based on the novel series of the same name by G.G. Fickling, starring Anne Francis in the lead role.
The show aired from September 17, 1965 to April 8, 1966, lasting for one season & 30 episodes.
Plot
The series centered on Honey West, a female detective who uses her skills and supply of devices to solve crimes.
Cast
Anne Francis as Honey West
John Ericson as Sam Bolt
Irene Hervey as Aunt Meg
Vincent Beck as John Raven
James Brown as Buster Brown
Adam Williams as Gordon Forbes
Production
The Honey West character was created by Gloria and Forrest E. "Skip" Fickling under the pseudonym "G.G. Fickling" in the late 1950s.
Skip had been a United States Army Air Forces Air Gunner during World War II, then enlisted in the U.S. Marine Corps Reserve after the war where he was called back into active service during the Korean War.
The G.G. represented the initials of his wife, Gloria Gautraud, whom he married in 1949, with initials used so the sex of the author would remain vague.
Though Gloria said that most of the writing was done by Forrest, Forrest said Gloria's ideas were used to make a plausible female character with Gloria also providing Honey's dress sense.
Forrest told the Los Angeles Times: "I first thought of Marilyn Monroe, and then I thought of [fictional detective] Mike Hammer and decided to put the two together ... We thought the most used name for someone you really like is Honey. And she lives in the West, so there was her name."
Honey West was one of the first female "private eyes" to ever appear on television. Anne Francis first played West in the second season episode of "Burke's Law" (entitled "Who Killed the Jackpot?" which was broadcast on April 21, 1965) which led to this series being commissioned as a spin-off.
Honey West drove a Jaguar convertible in the "Burke's Law" episode and was twice referred to as the "private eyeful." She carried a gun and was trained in martial arts. She was intended to be the American equivalent of the popular characters Cathy Gale and Emma Peel in the British series The Avengers.
Producer Aaron Spelling's first choice for the role of Honey was Honor Blackman (whom he had seen in England playing Cathy Gale on "The Avengers" and as Pussy Galore in "Goldfinger"), but Blackman turned the role down.
Anne Francis' fashions in the Honey West role were by Nolan Miller and her action scenes choreographed by Gene LeBell.
The series was developed for television by Gwen Bagni and Paul Dubov (who were writers of several episodes of "Burke's Law".)
Cancellation
"Honey West" was cancelled after just one season due to competition from "Gomer Pyle, U.S.M.C." and ABC reportedly deciding that it would be cheaper to import "The Avengers" and run it in the same time-slot than to keep producing the show.
Despite the cancellation, Anne Francis received a Golden Globe Award and a "Best Actress" Emmy nomination for her performance on the show.
Community content is available under
CC-BY-SA
unless otherwise noted.