This page does not adhere to the

layout guide

.

Please help the ABC Wiki by editing this page to be conform the set layout guidelines.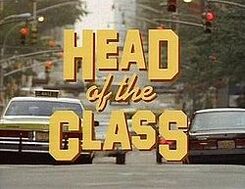 Head of the Class is a ABC network sitcom created by Michael Elias and Richard Eutsis that originally starred Howard Hesseman (who was known for his role on "WKRP in Cincinatti").
After Hesseman left the show in 1990, he was replaced by Scottish personality Billy Connolly in the show's final season.
The show aired from September 17, 1986 to June 25, 1991, lasting for 5 seasons and 114 episodes.
It also spawned a short-lived spin-off series "Billy."
Synopsis
"Head of the Class" was about a group of gifted students in the Individualized Honors Program (or the IHP) at the fictional Monroe High School (later called Millard Fillmore High School) in Manhattan, New York.
From seasons 1 to 4, the show focused on Charlie Moore, an out-of-work actor who works at the high school as a subsitute teacher and makes it his mission to get his students to think and help them learn how to solve their own problems.
In season 5, Scottish teacher Billy MacGregor replaced Charlie Moore as the new teacher for the IHP.
Cast
Howard Hesseman as Charles Moore [seasons 1-4]
Billy Connolly as Billy MacGregor [season 5]
William G. Schilling as Dr. Harold Samuels
Jeanetta Arnette as Bernadette Meara
Dan Frischman as Arvid Engen
Khrystyne Haje as Simone Foster
Dan Schneider as Dennis Blunden
Brian Robbins as Eric Mardian
Tannis Vallely as Janice Lazarotto [seasons 1-3; season 5]
Tony O'Dell as Alan Pinkard
Robin Givens as Darlene Merriman
Kimberly Russell as Sarah Nevins
Leslie Bega as Maria Borges [seasons 1-3]
Jory Husain as Jawarhalal Choudhury [seasons 1-3]
Rain Pryor as T.J. Jones [seasons 3-5]
De'voreaux White as Aristotle McKenzie [seasons 4-5]
Michael DeLorenzo as Alex Torres [seasons 4-5]
Lara Piper as Viki Amory [seasons 4-5]
Jonathan Ke Quan as Jasper Kwong [seasons 5]
Marcia Christie as Lori Applebaum [seasons 1-2]
Ratings
Season 1 1986-1987): #30
Season 2 1987-1988): #23
Season 3 1988-1989): #20
Season 4 1989-1990): #26
Season 5 (1990-1991): #26
Community content is available under
CC-BY-SA
unless otherwise noted.