Jurassic World: Dominion Dominates Fandom Wikis - The Loop
Play Sound
This page does not adhere to the

layout guide

.

Please help the ABC Wiki by editing this page to be conform the set layout guidelines.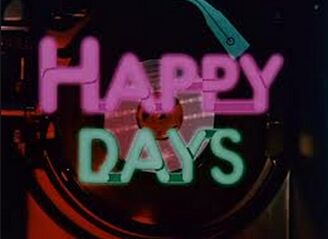 Happy Days is an ABC network sitcom created by Garry Marshall that first premiered on January 15, 1974. It was based on a segment from the show "Love, American Style" called "Love and the Television Set" (which was later retitled "Love and the Happy Days" for syndication).
The series spawned the spin-offs: "Laverne & Shirley," "Blansky's Beauties," "Mork & Mindy," "Out of the Blue", "Joanie Loves Chachi" and "Fonz and the Happy Days Gang."
After 11 seasons and 255 episodes, "Happy Days" ended on September 24, 1984.
Plot
Set in Milwaukee, Wisconsin, "Happy Days" revolved around teenager Richie Cunningham and his family: his father, Howard, who owns a hardware store; traditional homemaker and mother, Marion; younger sister Joanie; Richie's older brother Chuck (who only appeared seasons 1 and 2) and high school dropout, biker & suave ladies' man Arthur "Fonzie" or "The Fonz" Fonzarelli, who would eventually become Richie's best friend and the Cunninghams' upstairs tenant.
The earlier episodes of the series revolved around Richie & his friends, Potsie Weber and Ralph Malph with Fonzie as a secondary character.
However, as the series progressed, Fonzie proved to be a favorite with viewers and soon more story lines were written to reflect his growing popularity, and Winkler was eventually credited with top billing in the opening credits alongside Howard as a result.
Fonzie befriended Richie and the Cunningham family and when Richie left the series for military service, Fonzie became the central figure of the show with Henry Winkler receiving sole top billing in the opening credits.
In the show's later seasons, other characters were introduced including Fonzie's young cousin, Charles "Chachi" Arcola, who became a love interest for Joanie Cunningham.
Each of the eleven seasons of the series roughly tracks the eleven years from 1955 to 1965, inclusive, in which the show was set.
Cast
Ron Howard as Richie Cunningham
Anson Williams as Warren "Potsie" Weber
Marion Ross as Marion Cunningham
Tom Bosley as Howard Cunningham
Henry Winkler as Arthur "Fonzie" Fonzarelli
Don Most as Ralph Malph
Erin Moran as Joanie Cunningham
Al Molinaro as Al Delvecchio
Pat Morita as Matsuo "Arnold" Takahashi
Scott Baio as Charles "Chachi" Arcola
Lynda Goodfriend as Lori Beth Cunningham
Cathy Silvers as Jenny Piccalo
Ted McGinley as Roger Phillips
Linda Purl as Ashley Pfister
Video