Jurassic World: Dominion Dominates Fandom Wikis - The Loop
Play Sound
This page does not adhere to the

layout guide

.

Please help the ABC Wiki by editing this page to be conform the set layout guidelines.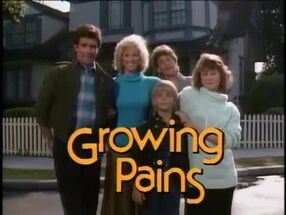 Growing Pains is an ABC network sitcom series created by Neal Marlens which aired from September 24, 1985, to April 25, 1992, lasting for seven seasons & 166 episodes.
Plot
The series centers on the misadventures of the Seaver family where dad Jason moves his psychiatric practice into their house after his wife, Maggie decides to return to work as a journalist.
Cast
Main Cast
Alan Thicke as Dr. Jason Seaver
Joanna Kerns as Maggie Seaver
Kirk Cameron as Mike Seaver
Tracey Gold as Carol Seaver
Jeremy Miller as Ben Seaver
Ashley Johnson as Chrissy Seaver (seasons 6-7)

Kelsey & Kristen Dohring as Chrissy Seaver (toddler) (season 5; alternating)

Leonardo DiCaprio as Luke Brower (season 7)
Recurring Cast
Andrew Koenig as Richard Milhous "Boner" Stabone (seasons 1–4, 25 episodes)
Chelsea Noble as Kate MacDonald (seasons 5–7, 22 episodes)
Jamie Abbott as Stinky Sullivan (seasons 2–6, 19 episodes)
K. C. Martel as Eddie (seasons 1–7, 19 episodes)
Sam Anderson as Principal Willis DeWitt (season 1–7, 13 episodes)
Betty McGuire as Kate Malone (seasons 1–7, 12 episodes
Lisa Capps as Debbie (seasons 2–4, 12 episodes)
Rachael Jacobs as Shelley (seasons 2–4, 12 episodes)
Gordon Jump as Ed Malone (seasons 1–7, 11 episodes)
Julie McCullough as Julie Costello (seasons 4–5, 11 episodes)
Bill Kirchenbauer as Coach Graham Lubbock (seasons 2–5)
Jane Powell as Irma Seaver (seasons 4–6, 8 episodes)
Jodi Peterson as Laura Lynn (seasons 4–6, 6 episodes)
Kevin Wixted as Bobby Wynette (seasons 2-3, 6 episodes)
Evan Arnold as Richie Flanscopper (seasons 1-3, 6 episodes)
Harry Shearer as Francis X. Tedesco (season 7, 4 episodes)
Spin-off
Feel free to check out the new Fandom for the series itself. https://just-the-ten-of-us.fandom.com/wiki/Just_The_Ten_Of_Us