Jurassic World: Dominion Dominates Fandom Wikis - The Loop
Play Sound
This page does not adhere to the

layout guide

.

Please help the ABC Wiki by editing this page to be conform the set layout guidelines.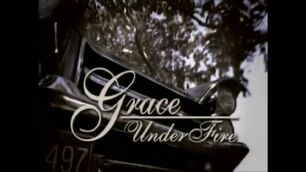 Grace Under Fire is an ABC network sitcom series created by Chuck Lorre, starring comedian Brett Butler in the lead role.
The show aired from September 29, 1993 to February 17, 1998, lasting for five seasons & 112 episodes.
Plot
Set in a small town in Missouri, the series centered on Grace Kelly, a divorced single mother and recovering alcoholic who tries to adjust to raising her three children alone after divorcing her abusive husband.
Cast
Brett Butler as Grace Kelly
Dave Thomas as Russell Norton
Julie White as Nadine Swoboda (1993–1997)
Casey Sander as Wade Swoboda
Jon Paul Steuer as Quentin Kelly (1993–1996)
Sam Horrigan as Quentin Kelly (1996–1998)
Kaitlin Cullum as Elizabeth Louise "Libby" Kelly
Dylan and Cole Sprouse as Patrick Kelly
Walter Olkewicz as Dougie Boudreau (1993–1996)
Dave Florek as Vic (1993–1996)
Louis Mandylor as Carl (1993–1994)
Charles Hallahan as Bill Davis (1993–1994)
Valri Bromfield as Faith Burdette (1993–1995)
William Fichtner as Ryan Sparks (1994)
Paul Dooley as John Shirley (1994–1996)
Peggy Rea as Jean Kelly (1995–1998)
Tom Poston as Floyd Norton (1995–1998)
Alan Autry as Rick Bradshaw (1995–1996)
Don "D.C." Curry as D.C. (1997–1998)
Lauren Tom as Dot (1997–1998)
Julia Duffy as Bev Henderson (1998)
Ratings
"Grace Under Fire" was the highest rated new show in its first season. In the month before the series first aired, the Showtime network broadcast the Carsey Werner-produced "Brett Butler Special", a half-hour comedy performance by Butler.
1993–1994: #5 (17.9 rating)
1994–1995: #4 (18.8 rating)
1995–1996: #13 (13.2 rating)
1996–1997: #45 (tie) (9.1 rating)
1997–1998: #68 (tie)
Controversy & Cancellation
As the show's third season concluded in the spring of 1996, Jon Paul Steuer left the series. Sources have speculated that Steuer's mother pulled him out of the show after an incident with Brett Butler, who allegedly flashed her breasts at the then-12-year-old actor.
At the beginning of Season 4, Sam Horrigan became the third actor to play Quentin Kelly, and with him in the role, the character's age advanced to 16 years old.
In the fourth and fifth seasons of the show, Butler was fighting a painkiller addiction, for which she eventually sought medical help.
Cast member Julie White left the show after the fourth season, also citing Butler's behavior as the reason.
The show (which had been a Top 20 series for its first three seasons) began to take a significant drop in the ratings during season four, from 13th place to 45th.
Butler's first round of treatment and rehab delayed the start of the 1997–98 season until November.
After "Grace Under Fire" resumed production on season five, a newly clean Butler struggled to stay that way and the morale on the set was little better than in the previous season, due to Butler's erratic behavior.
Around the holidays, Butler relapsed again, and although the producers were as committed as ever to continuing the show, ABC was becoming concerned about her overall health, and they were less patient with her accelerated amount of missed tapings.
The show's ratings continued to fall dramatically which may have well been attributed to Butler's reputation in the press, the longer-than-usual hiatus the series took between seasons four and five, and the fact that the character of Grace Kelly no longer went through the kinds of struggles that had made the show successful earlier on.
The addition of Julia Duffy several episodes into the fifth season was a last-ditch attempt to improve the ratings, but with Butler in her current state, ABC was not inspired to continue with the series.
Rather abruptly, with the February 17, 1998 telecast, ABC canceled the series. The three-month-long final season averaged at #68 in the 1997–98 Nielsen ratings.
Accolades
"Grace Under Fire" was nominated for three Golden Globe awards: "Best Performance by an Actress in a TV Series Comedy/Musical" in 1995 and 1997 and "Best TV Series Comedy/Musical" in 1995.
Actress Jean Stapleton was nominated for the 1995 Outstanding Guest Actress in a Comedy series Emmy Award for playing Aunt Vivian in the episode "The Road to Paris Texas."
Diane Ladd was nominated for the same award the previous year for playing Louise Burdett in the episode entitled "Things Left Undone" written by Brett Butler and Wayne Lemon.
Videos