This page does not adhere to the

layout guide

.

Please help the ABC Wiki by editing this page to be conform the set layout guidelines.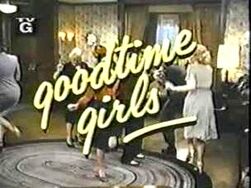 Goodtime Girls is an ABC network sitcom created by Leonora Thuna, and produced by Thomas L. Miller, Edward K. Milkis & Robert L. Boyett, in association with Garry Marshall's Henderson Productions and Paramount Television.
The show aired from January 22, 1980 to August 29, 1980, lasting for one season and 12 episodes (leaving one episode unaired).
Plot
Set in Washington, D.C. in the 1940s during World War II, the series centered on four young women sharing an apartment together.
Cast
Annie Potts as Edith Bedelmeyer
Lorna Patterson as Betty Crandall
Georgia Engel as Loretta Smoot
Francine Tacker as Camille Rittenhouse
Marcia Lewis as Irma Coolidge
Merwin Goldsmith as George Coolidge
Peter Scolari as Benny Loman
Adrian Zmed as Frankie Millardo
Sparky Marcus as Skeeter
Scheduling
"Goodtime Girls" premiered in January of 1980 on Tuesday nights, immediately following "Happy Days."
ABC kept the show on through the end of February sweeps, but then it was pulled it off the schedule for over a month until it returned in April, when it then aired for three consecutive weeks in a Saturday 8:30/7:30c slot.
"Goodtime Girls" was then taken off the schedule again, and since it garnered small audiences during both these runs, the network officially cancelled the show during the May 1980 upfronts.
Five more original episodes of the show turned up on Fridays at 8:30/7:30c that August, leading up to the final produced episode's broadcast on August 29, 1980.
The series' third episode ("Night and Day") was the only one that ABC chose not to air during its run, for unexplained reasons.