Jurassic World: Dominion Dominates Fandom Wikis - The Loop
Play Sound
This page does not adhere to the

layout guide

.

Please help the ABC Wiki by editing this page to be conform the set layout guidelines.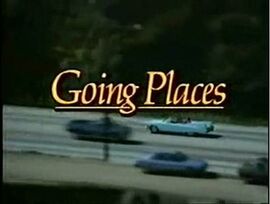 Going Places is an ABC network sitcom series created & executive produced by Robert Griffard and Howard Adler. The show was and developed & executive produced by Thomas L. Miller and Robert L. Boyett.
The show aired from September 21, 1990 to March 8, 1991, lasting for one season & 19 episodes.
It was produced by Miller-Boyett Productions in association with Lorimar Television.
Plot
Original premise
The original premise of "Going Places" was that four young writers, conservative Chicago ad man Charlie Davis, his rambunctious, insecure brother Jack, whose background was in improvisational comedy, sexy Denver native Alexandra "Alex" Burton, a writer, and New Yorker Kate Griffin were the writing staff of "Here's Looking at You", a "Candid Camera"-type program that featured real people caught in their unawares.
When Charlie and Jack first arrived in Los Angeles, they were pleased to find that their writing partner was to be Alex, whose kittenish sex appeal and laid-back sensibility drew both of them in.
Almost at the last minute, Kate entered the picture, whose wisecracking sarcasm caused friction with the other three. They thought putting up with Kate was only going to have to be relegated to the studio, but when Charlie, Jack and Alex learned they would be renting a beach house together, Kate was there to greet them with a hearty, "The big bedroom's mine!"
The gang's professional lives were then essentially indistinguishable from their personal ones, as all lived together in the opulent, mansion-like beach home.
Renting it out was their boss, Dawn St. Claire, the executive producer of "Here's Looking at You." At turns, Dawn was tyrannical and neurotic, but generally supportive of her new writing staff.
Before long, the group found their common ground, spending long hours both at home and at the studio dreaming up and executing sight gags galore, while seeking out all that L.A. had to offer. Charlie and Jack proved to be an effective team on their own, but only after normal brotherly squabbles and pulling pranks on each other.
Alex (who often played referee to the proceedings) quickly got through to Kate, who began to show her softer side and developed a sister-like relationship with her.
Jack and Alex also established their active social lives, while Charlie and Kate formed their own unique friendship, playing Monopoly together on Saturday nights when the dating scene got them down.
The foursome's neighbor, vivacious teenager Lindsay Bowen also shared in the many misadventures they found themselves in, both at the studio and around town.
Second premise
The original concept of "Going Places" failed to garner much of an audience, but instead of than canceling the show, the fictional "Here's Looking at You" was canceled.
In the wake of this development, Dawn announced she had been offered a producing job on a reality show called "America's Funniest Most Wanted" (in which she claimed wanting "to work with convicts who hadn't been with a woman for many years"), but said that she had turned it down. She told the gang that she would still drop by once a month to collect the rent, but she was never seen again after this episode.
The four of them then went to work as the production team for a manic daytime talk show host, Dick Roberts. They took advantage of joining a successful hot spot for celebrities such as "The Dick Roberts Show" engaging in over-the-top stunts in hopes of getting noticed as on-screen talent.
In the episode immediately following the switch to the talk show, Kate's eight-year-old nephew, Nick Griffin dropped by for a visit from New York.
Having taken his first trip alone across country to enjoy the glamorous L.A. life with Kate, Nick was supposed to go home to his father at the close of the vacation. Kate's brother eventually leaves a message on the gang's answering machine, claiming that he'll be too busy to return for his son. Nick effectively moves into the beach house, adding a more youthful appeal to the show.
While the rest initially took to Nick, they soon found themselves having to act as parents and babysitters, which put a considerable crimp in their carefree lifestyles. Kate and Nick, feeling snubbed, moved out for one episode to a dreary apartment.
Jack, Charlie and Alex then had the idea to convert the beach house attic into a bedroom for Nick. The Griffins then moved back in, forming a unique blended family.
In the last few episodes, Sam Roberts, Dick's awkward young son, showed up and became a recurring character.
Sam (with a portable pharmacy he carried in a suitcase, countless phobias and traditional geekiness) was accepted as a friend by the well-adjusted Nick, despite their differences. Nick (along with guidance from mentors Charlie and Jack) began to teach Sam little lessons in making friends and being a carefree kid.
Cast
Alan Ruck as Charlie Davis
Jerry Levine as Jack Davis
Heather Locklear as Alexandra "Alex" Burton
Hallie Todd as Kate Griffin
Holland Taylor as Dawn St. Clair
Staci Keanan as Lindsay Bowen
J.D. Daniels as Nick Griffin
Steve Vinovich as Dick Roberts
Philip Charles MacKenzie as Arnie Ross
Christopher Castile as Sam Roberts
Production
"Going Places" was executive produced by Thomas L. Miller and Robert L. Boyett )along with show creators Robert Griffard and Howard Adler).
The producing lineup included Deborah Oppenheimer (formerly of "The Hogan Family"); Alan Eisenstock and Larry Mintz, holdovers from Miller and Boyett's Paramount years (having worked on series such as Angie), were supervising producers.
Eisenstock and Mintz were chosen by Miller-Boyett to launch a few of their series during the Lorimar era, including "Family Matters" and "Step By Step" during their freshman seasons.
Robert Blair (another supervising producer who only worked on episodes 2 through 12) had also been on the "Family Matters" launch team with Eisenstock and Mintz. The pilot episode featured Ronny Hallin and James O'Keefe as producers.
At mid-season, as the premise of "Going Places" was revamped, Blair was let go from the production staff, and Shari Hearn arrived as a general producer. For the entire season, Myron Nash served as associate producer, and comedian/actress Valri Bromfield joined as a co-producer in late 1990.
The majority of the episodes of "Going Places" were written by either Griffard and Adler or Eisenstock and Mintz. Other contributing writers included Rob Bragin, the show's story editor; Sheree Guitar; and Maiya Williams (who was also executive story editor).
Development and original pilot
Series creators Robert Griffard and Howard Adler joined Miller-Boyett Productions in 1987, originally as writers and executive story consultants on "Perfect Strangers".
Two years later, Griffard and Adler were named co-producers on "Perfect Strangers" during which time they began penning a screenplay which they would soon discuss with Miller and Boyett, in hopes of turning it into a pilot.
After ABC found success in the 1989-1990 season with their Friday TGIF lineup, which was then composed of three back-to-back Miller-Boyett shows ("Full House", "Family Matters" and "Perfect Strangers"), the network decided that, for the 1990-91 season's fall schedule, a fourth Miller-Boyett show would help capitalize on the TGIF success.
They also felt that a full two-hour Miller-Boyett comedy block would create a more seamless appearance throughout the lineup as well since all the shows had the same visual look.
Miller and Boyett (who were by then already interested in developing a show for Griffard and Adler) pitched the latter's project to ABC, which ultimately won their approval.
The concept of four young, single writers living together, while working to further themselves in show business, fit perfectly with ABC's idea of installing a Miller-Boyett series with enough adult appeal to fit into the post-"Perfect Strangers" 9:30/8:30c slot.
The first pilot, produced in the spring of 1990, had slight differences in the relations of the main characters and their history. Griffard and Adler's original plan was to base the Davis brothers and Alex Burton on the characters depicted in the 1989 film, "The Fabulous Baker Boys."
In comparison with the hot shot piano-playing brothers played by Jeff and Beau Bridges, and the sultry girlfriend of Jack Baker (Jeff Bridges' character), played by Michelle Pfeiffer, the pilot for "Going Places" had Jack, Charlie and Alex as actors from a world-renowned Chicago improvisational comedy troupe, with Jack and Alex as lovers. The three were hired on a trial basis to write for "Here's Looking at You" in Los Angeles by Dawn St. Claire (Taylor), who subsequently paired them with wisecracking Kate.
Footage from this unaired pilot (which was featured in ABC's fall 1990 upfronts preview reel) shows Jack, Charlie and Alex arriving from Chicago together, as they face a few obstacles in adjusting to Los Angeles, prior to meeting with Dawn St. Claire.
Most of the plot points that were carried over into the series were evident, in which the gang is forced to accept Kate as their co-worker and roommate, along with their attempts to professionally win over the formidable Dawn.
A direct allusion to the show's cinematic inspiration showed up in the original pilot script; when Kate first meets Charlie, Jack and Alex in the offices of Here's Looking at You, she acknowledges their relations to each other and says, "Oh look, it's the fabulous Baker boys!"
In the first pilot, the gang's only neighbor was Dawn, as the house she rented to them was part of her beach house property.
Over the summer, after "Going Places" had been picked up, the producers decided that the premise would work better if only Jack and Charlie were coming from Chicago. Charlie was changed from being an improv actor to having a background in advertising, while Jack remained with his improv experience.
Alex was now brought to Los Angeles from Denver, as a writer, and had no prior relationship with the Davis brothers prior to meeting them for the opportunity on the hidden camera show. Griffard and Adler wanted to heighten the brothers' excitement of working with the sexy Alex, and the innuendos that would arise from living with her as well.
Although both brothers would make sexual comments in regards to Alex, it was evident in the second pilot script that Jack was bound to make a serious play for Alex.
Kate and Dawn's characters remained the same. However, to add a small amount of youth appeal to the otherwise adult comedy, Staci Keanan was added beginning with the second pilot as the teenage, know-it-all next door neighbor, Lindsay Bowen.
Broadcast History\Cancellation
"Going Places" premiered on September 21, 1990 as the end of ABC's newly successful "TGIF" lineup, in the Friday 9:30/8:30c slot (#41).
The series' scheduling was a landmark for both ABC and Miller/Boyett Productions, as all four TGIF programs that season were produced by Miller/Boyett: "Full House", "Family Matters", "Perfect Strangers" and "Going Places."
Being a more adult entry into the all-Miller/Boyett lineup of mostly family-oriented shows, "Going Places" met with a slower audience growth during its first few months.
Despite having "Perfect Strangers" as its lead-in, which remained a Top 20 show, the show lost a lot of that audience on a weekly basis, and came in at #50 during November sweeps, which paled in comparison to the other TGIF programs.
By the end of the year, Miller, Boyett and company decided (after some urging from ABC) that a stronger emphasis on preteen characters and storylines would cause the series to be more compatible with the TGIF lineup, and bring better ratings.
However, within weeks of the January cast and concept changes, "Going Places" began a rapid ratings increase, moving all the way up to #34 during February sweeps.
ABC announced it would put the series on hiatus after March 8, while it decided on where to proceed with the series in terms of future scheduling (the network now viewed it as a program full of potential as an 8-9 p.m. show, rather than as a strictly-upper-age-group series for 9:30 p.m. as originally envisioned), to consider changes in the TGIF lineup for May 1991 upfronts, and to give the long-delayed sitcom "Baby Talk", a mid-season premiere in the 9:30/8:30 TGIF slot.
After "Going Places" went into hiatus, there was talk that one of the three established "TGIF" comedies would move from Friday nights to Tuesdays for the fall 1991 schedule.
It was originally hinted that "Family Matters" would move from Friday to Tuesday, as the new 8 p.m. anchor for that night (replacing "Who's The Boss?" (which was moving to Saturday).
The change in the "TGIF" lineup would have assured a renewal for "Going Places" and was also leaving room for an upcoming Miller/Boyett series slated for Fridays that fall, Step by Step.
However, "Baby Talk" (which was trying out in the show's time slot) was performing very well in the time period—so well, in fact, that it was ranking in the Top 20, higher than "Going Places" ever had, and better than other comedies ABC had aired in the slot in the past few years ("Just the Ten of Us", "New Attitude", et al.).
When the upfronts were presented in May of 1991, "Family Matters" remained on TGIF (now leading off at 8 p.m.) and "Full House" was moved to Tuesdays instead.
ABC's decision to stick with "Baby Talk" (despite the abuse it took from critics), and competition that emerged from the network's stable of strong fall 1991 comedy pilots ("Step by Step", "Home Improvement", et al.), resulted in the network passing on a second season of Going Places, and the series was officially canceled in May 1991.
The series returned on May 31, 1991 for six weeks of summer reruns (mostly of the episodes aired after the concept and character revamp), and last aired on July 5, 1991 (#34).