This page does not adhere to the

layout guide

.

Please help the ABC Wiki by editing this page to be conform the set layout guidelines.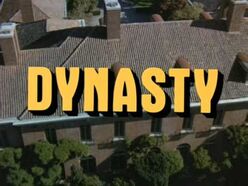 Dynasty is an ABC network primetime TV soap opera created by Richard & Esther Shapiro.
The show aired from January 12, 1981 to May 11, 1989, lasting for nine seasons and 220 episodes.
It also spawned the spin-off series "The Colbys" which aired from November 1985 to March 1987.
In October of 1991, ABC aired a two-part mini-series called "Dynasty: The Reunion."
Plot
The series centered on the Carringtons, a wealthy family residing in Denver, Colorado.
Cast
John Forsythe as Blake Carrington
Linda Evans as Krystle Grant Jennings Carrington
Pamela Sue Martin\Emma Samms as Fallon Carrington Colby
John James as Jeff Colby
Al Corley\Jack Coleman as Steve Carrington
Joan Collins as Alexis Colby
Pamela Bellwood as Claudia Blaisdel Carrington
Heather Locklear as Sammy Jo Carrington
Gordon Thomson\Robin Sachs as Adam Carrington
Lee Bergere as Joseph Anders
Lloyd Bochner as Cecil Colby Lloyd
Kathleen Beller as Kirby Anders
Michael Nader as Dex Dexter
Diahann Carroll as Dominique Deveraux
Catherine Oxenburg as Amanda Carrington
Leann Hunley as Dana Waring Carrington