Jurassic World: Dominion Dominates Fandom Wikis - The Loop
Play Sound
This page does not adhere to the

layout guide

.

Please help the ABC Wiki by editing this page to be conform the set layout guidelines.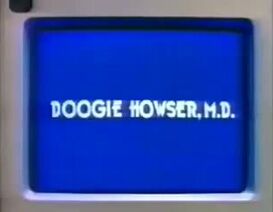 Doogie Howser, M.D. is an ABC network medical drama series created by Steven Bochco & David E. Kelley, starring Neil Patrick Harris in the lead role.
The show aired from September 19, 1989 to March 24, 1993, lasting for four seasons & 97 episodes.
It was produced by Steven Bochco Productions, 20th Century Fox Television (seasons 1 to 3) and 20th Television (in season 4).
Plot
The series centered on Doogie Howser, a teenage doctor who balances the challenge of practicing medicine with the everyday problems of his teenage years.
Cast
Main Cast
Neil Patrick Harris as Dr. Douglas "Doogie" Howser
Max Casella as Vinnie Delphino
James B. Sikking as Dr. David Howser
Belinda Montgomery as Katherine Howser
Lisa Dean Ryan as Wanda Plenn (seasons 1–2, recurring in season 3)
Lucy Boryer as Janine Stewart (seasons 1–3, two episodes in season 4)
Lawrence Pressman as Dr. Benjamin Canfield
Mitchell Anderson as Dr. Jack McGuire ((seasons 1–2)
Kathryn Layng as Mary Margaret "Curly" Spaulding
Markus Redmond as Raymond Alexander (seasons 2–4; guest star in season 1)
Recurring Cast
Rif Hutton as Dr. Ron Welch
Robyn Lively as Michele Faber (seasons 2 and 4)
Barry Livingston as Dr. Bob Rickett (seasons 2–4)
Production
Steven Bochco originated the show's concept and asked David E. Kelley to help write the pilot, giving Kelley a "created by" credit.
Neil Patrick Harris was the first actor the show's staff had found that could convincingly play a teenage doctor, but ABC executives opposed his casting.
Bochco's contract required that the network pay an "enormous" penalty if it canceled the project, so ABC was forced to let Bochco film the pilot.
The network still opposed Harris's casting and disliked the pilot, but after positive reception during test screenings, ABC greenlit the show.
Reception
According to Metacritic, Marvin Kitman of Newsday gave the first season of "Doogie Howser, M.D." a 40/100 score and commented: "What a wasted childhood my kids have had, I got to thinking while watching this otherwise normal Doogie Howser. It makes you look at your kids differently. What lazy bums they must be, still in high school at 16."
Scott Weinberg of DVD Talk recommended season two: "It's not high art, but it's a heckuva lot better than what generally passes for your average weeknight sitcom."
Christopher Smith of the Bangor Daily News gave the third season a "C" grade and commented: "No classic, this series. [...T]he show has become gratingly cute, particularly in the episodes "Doogiesomething," "Double Doogie with Cheese," and "Lonesome Doog." Doog, I'm Dooged out."
Accolades
Year
Award
Result
Category
Recipient
1990
People's Choice Award
Won
Favorite New TV Comedy Series
Viewers for Quality Television Award
Nominated
Best Actor in a Quality Comedy Series
Neil Patrick Harris
Best Supporting Actor in a Quality Comedy Series
Max Casella
Young Artist Award
Won
Best Young Actor Starring in a Television Series
Neil Patrick Harris
Nominated
Best New Television Series
Best Young Actor Guest Starring in a Television Series
Michael Bacall
1991
Primetime Emmy Award
Won
Outstanding Sound Mixing for a Comedy Series or a Special
Joe Kenworthy (production sound mixer)
Bill Thiederman (re-recording mixer)
Dean Okrand (re-recording mixer)
Mike Getlin (re-recording mixer)
(for the episode "Doogenstein")
Humanitas Prize
Nominated
30 Minute Network or Syndicated Television
Nat Bernstein
Mitchel Katlin
(for the episode "To Live and Die in Brentwood")
Young Artist Awards
Won
Best Young Actor Guest Starring in a Television Series
Christopher Pettiet
Best Young Actor Starring in a Television Series
Neil Patrick Harris
1992
Primetime Emmy Award
Won
Outstanding Sound Mixing for a Comedy Series or a Special<td Joe Kenworthy (production sound mixer)
Bill Thiederman (re-recording mixer)
Dean Okrand (re-recording mixer)
Mike Getlin (re-recording mixer)
{{small>(for the episode "Lonesome Doog")
Nominated
Outstanding Cinematography for a Series<td Michael D. O'Shea
{{small>(for the episode "Summer Of '91")
Golden Globe Award
Nominated
Best Performance by an Actor in a TV-Series - Comedy/Musical
Neil Patrick Harris
Young Artist Award
Won
Best Young Actor Starring in a Television Series
Nominated
Best Young Actress Co-starring in a Television Series
Lisa Dean Ryan
1993
Primetime Emmy Award
Won
Outstanding Sound Mixing for a Comedy Series or a Special<td Joe Kenworthy (production sound mixer)
Mike Getlin (re-recording mixer)
Dean Okrand {{small>(re-recording mixer)
Bill Thiederman (re-recording mixer}
(for the episode "Doogie Got a Gun")