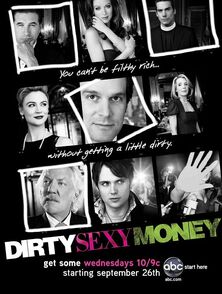 Dirty Sexy Money is an ABC network drama series created by Craig Wright, which aired from September 26, 2007 to August 8, 2009, lasting for two seasons & 23 episodes.
It was produced by ABC Studios, Bad Hat Harry Productions, Berlanti Television and Gross Entertainment.
Plot
The series revolved around lawyer and family man Nick George. After Nick's father mysteriously dies in a plane crash, he agrees to take his position as the lawyer for the Darling family while trying to discover who committed the murder.
The Darlings (who are the richest family in New York) constantly rely on Nick to solve their problems. Nick struggles to balance his morals and family life while dealing with the demands of the Darlings.
Cast
Peter Krause as Nick George
Donald Sutherland as Patrick "Tripp" Darling III
Jill Clayburgh as Letitia Darling
William Baldwin as Patrick Darling IV
Natalie Zea as Karen Darling
Glenn Fitzgerald as Brian Darling Sr.
Seth Gabel as Jeremy Darling
Samaire Armstrong as Juliet Darling
Zoe McLellan as Lisa George
Lucy Liu as Nola Lyons
Blair Underwood as Simon Elder
Broadcast History
"Dirty Sexy Money" premiered in the United States on September 26, 2007 on ABC following the Grey's Anatomy spin-off, "Private Practice", airing on Wednesday nights at 10:01 P.M. Eastern/9:01 P.M. Central.
On November 16, 2007, ABC ordered a full 22-episode season for the show, making it the first show to receive a full season order since the WGA writers' strike began on November 5, 2007.
However, in the end, the first season of "Dirty Sexy Money" comprised only 10 episodes due to the strike. The second season premiered on October 1, 2008, ten months after the first season finale.
On November 20, 2008, ABC decided not to order any additional episodes for the 2008–2009 TV season.
On December 10, 2008, Billy Baldwin appeared on NBC's "Today Show" asking for fans to support the show by watching the show and by visiting the ABC website and sending nice messages of support to the ABC executives. He said the show was not canceled, but on hiatus until ABC knew how the midseason replacement shows fared.
All cast and sets continued to be contracted and on hold.
The last scheduled episode of the show aired on December 17, 2008, while four episodes remained unaired in the USA even though they were broadcast elsewhere.
After "Dirty Sexy Money" was officially canceled, ABC announced the series would return on Saturday, July 18, 2009 at 10:00 P.M. Eastern/9:00 P.M. Central.
The final episode, "The Bad Guy", aired on August 8, 2009 and the second season came out on DVD on August 18, 2009.
Promotion
Using publicity from Paris Hilton's jail sentence controversy, ABC placed full-page advertisements in the Los Angeles Times and The New York Post that read: "We love Paris. The Darling Family."
Later, an airplane towing a banner with the same message flew above the downtown courthouse on June 8th during Hilton's subsequent hearing.
ABC has placed fake advertisements on popular gossip blog Perezhilton.com on August 6, 2007 "denouncing" the diva-like behavior of Samaire Armstrong's character, Juliet Darling, among others.
The song "Beautiful, Dirty, Rich" by singer Lady Gaga was used during advertisements for the show; clips from the show were also used in an alternate version of the music video.
Community content is available under
CC-BY-SA
unless otherwise noted.