This page does not adhere to the

layout guide

.

Please help the ABC Wiki by editing this page to be conform the set layout guidelines.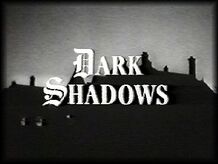 Dark Shadows is an ABC network soap opera series created by Dan Curtis, which aired from June 27, 1966, to April 2, 1971, lasting for six seasons & 1,225 episodes.
It was produced by Dan Curtis Productions. A short-lived revival of the series aired on NBC in 1991.
Plot
The series centered on the lives, loves, trials and tribulations of the wealthy Collins family of Collinsport, Maine, where a number of supernatural occurrences take place.
Cast
Joan Bennett
Grayson Hall
Jonathan Frid
Nancy Barrett
Alexandra Moltke
Louis Edmonds
Kathryn Leigh Scott
David Selby
David Henesy
Lara Parker
Thayer David
Production
Creator Dan Curtis claimed he had a dream in 1965 about a mysterious young woman on a train. The following day, he told his wife of the dream and pitched the idea as a TV series to ABC. Network officials greenlit production and Curtis began hiring crew members.
Art Wallace was hired to create a story from Curtis's dream sequence. Wallace wrote the story bible Shadows on the Wall, the proposed title for the show, later changed to Dark Shadows.
Robert Costello was added as a line producer, and Curtis took on the creator and executive producer roles. Lela Swift, John Sedwick, and Henry Kaplan all agreed to be directors for the new series. Robert Cobert created the musical score and Sy Tomashoff designed the set.
Curtis then set out to find the actress to play the girl on the train. Alexandra Isles (then Alexandra Moltke), a young actress with little experience, was discovered and cast in the role of Victoria Winters, an orphan who journeys to the mysterious, fictional town of Collinsport, Maine, to unravel the mysteries of her past.
Veteran film star Joan Bennett was soon cast as Victoria's employer Elizabeth Collins Stoddard, a woman who had not left her home in over 18 years. Stage actor Louis Edmonds was cast as Elizabeth's brother, a widower, Roger Collins.
Another stage actress, Nancy Barrett, was then cast as Elizabeth's headstrong daughter Carolyn Stoddard, and child actor David Henesy was cast as Roger's troubled son David Collins.
"Dark Shadows" had a rocky beginning. Critics were quick to deem the series rather boring for its heavy use of unknown actress Isles and the slow pace. The earliest episodes of the series concerned menacing but unfulfilled conflicts, threatened revenge, then an attempted murder, and, finally, a murder.
The supernatural elements that later made the show a hit, were slow to appear and only hinted at until episodes 52 and 70 in which the audience finally sees compelling evidence of a ghost.
As production on the series continued, many new and mysterious characters, played by unfamiliar actors and actresses were introduced, but two early cast changes brought stage actors David Ford and Thayer David into the ensemble.
Thayer David would go on to play several formidable villains over the course of the series. Michael Currie, as Constable Jonas Carter, was shortly replaced by veteran actor Dana Elcar, as Sheriff George Patterson.
Most of the actors played multiple characters, and those characters often returned through flashbacks, the use of parallel time lines, or as ghosts.
Broadcast History
Perhaps one of ABC's first truly popular daytime series, along with the game show, "Let's Make a Deal" (which had moved from original home NBC in 1968), "Dark Shadows" found its demographic niche in teenagers coming home from school in time to watch the show at 4 p.m. Eastern/3 p.m. Central, where it aired for almost all of its network run, the exception being a 15-month stretch between April 1967 and July 1968, when it aired a half-hour earlier.
Originally, the series was aired in black-and-white, but the show went into color starting with the August 11, 1967 installment transmission.
It became one of ABC's first daytime shows to actually win its timeslot, leading to the demise of NBC's original "Match Game" and Art Linkletter's long-running "House Party" on CBS, both in 1969.
"Dark Shadows" began with a 4.1 rating in the 1965-66 TV season, tying for thirteenth place out of eighteen daytime dramas.
The audience figures only improved slightly, to 4.3, in 1966-67. 1966 was a volatile year for soaps, and many ended their runs between the premiere date of Dark Shadows in June and the month of December.
By that time, six months had passed, and for "Dark Shadows", the news was not good; the soap had failed to gain major traction. In June, it ranked #13 out of 18 soaps, and by December, the lower-rated offerings were gone and the show officially ranked #13 out of 13 soaps.
Head writer Sam Hill said, "The show was limping along, really limping and ABC said, 'We're canceling it. Unless you pick up in 26 weeks, you're finished.' [Series creator Dan Curtis] had always wanted to do a vampire picture, so he decided to bring a vampire — Barnabas Collins — on the series."
Barnabas was introduced in April 1967 and the fan response was swift and immediate. Coupled with a time slot change to 3:30 Eastern / 2:30 Central, the fortunes of the series rebounded, as many more teenagers found the program after tuning out the other offerings that may have been too "boring" to them.
By May 1968, the series was still in last place (out of 12 offerings), but rose to a 7.3 rating, the rough equivalent (at that time) of gaining the viewership of three million households in the span of one year.
"Dark Shadows" would return to its 4:00 p.m. Eastern / 3:00 p.m. Central time slot in July 1968, without losing much of its audience at all. "One Life to Live" (which was launched by ABC in July 1968 in the 3:30 slot) also sought to reach the newfound young demographic.
The series reached its peak in popularity during a storyline set in the year 1897, broadcast from March 1969.
By the end of May, Dark Shadows was ABC's most popular soap opera, and by late 1969 it was reaching between 7 and 9 million viewers on any given day, and ranking 11th out of a total 15 daytime dramas in that time period.
In November 1969, after nine months of some of the show's most intricate, intelligent storylines, the 1897 storyline came to an end. With ratings at an all-time high, the writers were under pressure to hold the audience.
The show's next storyline, known as "The Leviathans", proved to be a thematic misstep for the show and one from which it never recovered.
Fans tended to dislike the portrayal of Barnabas as the pawn of some greater power. They were more interested in the archetypes of classic horror—the vampire, the witch, the werewolf—than in off-camera suggestion.
The launch of Somerset in March 1970, a much-ballyhooed spin-off of NBC's "Another World", also hurt the series considerably.
The release of the film "House of Dark Shadows in September" of that year is also thought to have caused TV ratings to fall, perhaps because of parents who attended the film with their children, and seeing the amount of blood spilled across the screen, discouraged their children's choice of television viewing material.
Beginning in the fall of 1970, several ABC stations across the country dropped the show due to falling viewership. Within six months, ratings dropped from 7.3 to 5.3. Ironically, the Nielsen ratings for March 1971 (which was the last full month that "Dark Shadows" was on the air) revealed that viewership had risen in its final weeks.
By early 1971, though, ABC was trying to cut costs in the face of harsh new economic realities including a national economic recession, a sharp dip in advertising revenue following the discontinuance of cigarette commercials, and a record-high number of competing soap operas, which were more expensive to produce than game or talk shows—on the networks' daytime schedules. Thus, the network began weeding out supposedly unproductive programming.
Despite its relatively high station clearances for its timeslot and low production costs, Dark Shadows fell victim to the purge mainly because of its young audience, who usually did not make decisions about the purchasing of household goods and food products for the family, which were the two chief industries that bought airtime on daytime television in that era.
Practically no other daytime show skewed so much under the 18–35 demographic threshold as Dark Shadows did.
Furthermore, prime-time shows and movies with horror or science fiction themes (e.g., Star Trek, The Man from U.N.C.L.E.) had been on the decline for some time, and, of course, the serial appealed heavily to fanciers of those genres, people who usually didn't express much interest in the often sentimental domestic or romantic themes on which traditional soaps had relied since their inception on radio in the 1930s.
In addition and probably more decisively, "Dark Shadows" experienced a precipitous drop in its ratings during its last two years on the air, falling from a peak of 8.4 in the 1968–69 television season to a 5.3 in 1970–71.
Reflecting on the series' cancellation, in an interview included in a 2005 DVD release, series creator Curtis welcomed the show's cancellation, feeling it had run out of fresh ideas: "I was just hoping it was going to end. I couldn't squeeze my brain any harder to come up with just one more story. I just wanted to move on and out."
Despite many letters of protest from outraged fans, ABC canceled "Dark Shadows" on April 2, 1971, and replaced it with a new version of the hit 1960s game show "Password".
The rather abrupt ending of the series left some plotlines (such as Victoria Winters' parentage, and the story of the Jennings family) unfinished, although most of the plot threads came to a happy conclusion, via a voice-over explaining future events in the final minute of the last episode.