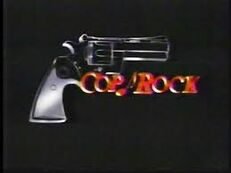 Cop Rock is an ABC network musical police drama series created by Steven Bochco and William M. Finkelstein.
The show aired from September 26 to December 26, 1990, lasting for one season and 11 episodes before it was canceled. It was produced by 20th Century Fox Television and Steven Bochco Productions.
Plot
The series centered on the adventures of a police force, combining the police procedural drama with musical theatre & black comedy.
Cast
Main Cast
Anne Bobby as Officer Vicki Quinn
Barbara Bosson as Mayor Louise Plank
Ronny Cox as Chief Roger Kendrick
Vondie Curtis-Hall as Commander Warren Osborne
David Gianopoulos as Officer Andy Campo
Larry Joshua as Captain John Hollander
Paul McCrane as Detective Bob McIntire
James McDaniel as Officer Franklin Rose
Ron McLarty as Ralph Ruskin
Mick Murray as Detective Joseph Gaines
Peter Onorati as Detective Vincent LaRusso
Recurring Cast
Teri Austin as Trish Vaughn
Dennis Lipscomb as Sidney Weitz
William Thomas, Jr. as Detective William Donald Potts
Kathleen Wilhoite as Patricia Spence