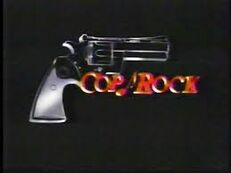 Cop Rock is an ABC network musical police drama series created by Steven Bochco and William M. Finkelstein.
The show aired from September 26 to December 26, 1990, lasting for one season & 11 episodes. It was produced by 20th Century Fox Television and Steven Bochco Productions.
Plot
The series centered on the adventures of a police force, combining the police procedural drama with musical theatre & black comedy.
Cast
Main Cast
Recurring Cast
Cancellation & Reception
"Cop Rock" was a critical and commercial failure and was canceled by ABC after 11 episodes.
Owing to the combination of its bizarre nature (a fusion of musical performances with serious police drama and dark humor) and its high-powered production talent, it became infamous as one of the biggest television failures of the 1990s.
The series' final episode (which aired on December 26, 1990) concluded with the cast breaking character and joining crew members in performing a closing song. TV Guide ranked the show at #8 on their list of the "50 Worst TV Shows of All Time" in 2002, dubbing it "the single most bizarre TV musical of all time".
Despite the show's overwhelmingly negative reception and short run, it still has been rebroadcast in later years, with VH1 and A&E Network airing it on separate occasions later in the 1990s, and Trio airing it in the 2000s.
Community content is available under
CC-BY-SA
unless otherwise noted.